Dingboche village & Tengboche to Dingboche distance, weather, elevation
Tengboche to Dingboche distance is 9 kilometers. Dingboche village is a significant step on your way to Everest base camp. The altitude of this place has been estimated as 4410 meters / 14468 feet above sea level.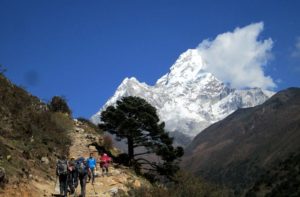 Base camp trek is distributed between flat land and bridges with steep trek lines at some points. You may have the spectacular view of the farmlands and nature at this trek.
Traditional Sherpa settlement, Nunnery, monastery, Mani stones, Chortens, Yak and wildlife pastures are the highlighted feature of Tengboche to Dingboche hiking route.
Tengboche to Dingboche trek distance is about 5 to 6 hours. Mountain views of Mt. Everest, Lhotse, and Ama Dablam add the more attraction on it. Tengboche to Dingboche trek passes throw the different lush trees, birch, conifers and rhododendrons forest.
Fifth day walk start from Tengboche to Dingboche village a part of world famous Mount Everest base camp trekking in Nepal. This distance is an easy track to walk along the river.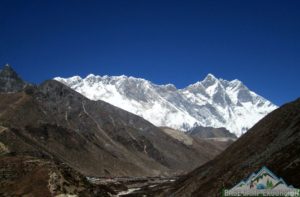 Everest base camp trek, 9 days, 10 days, 12 days, 14 days
Mount Everest view trek, 5 days, 7 days
Gokyo lakes trek
Everest Cho la pass trek
Everest base camp trek via Jiri
Luxury Everest base camp trek
Everest three pass trek
Ama Dablam base camp trek
Phaplu to Everest base camp trek
Gokyo to Renjo la pass trek
After Deboche trekkers cross the suspension bridge over Imja Khola then walk towards the Pangboche village. Somare village is the lunch spot of this day trek. Walking trail above Somare and Orsho reward the travelers with pristine view of the Himalayas. Walking along the Imja valley finally you reach the Dingboche village.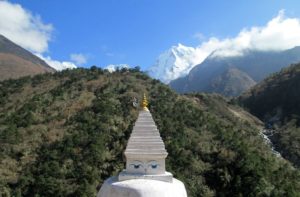 The scenery of the farm lands and the monastery is amazing during Tengboche to Dingboche trek. You will surely find some music in the splashes of Dudh Kosi. There will be fairly good vegetation cover before you head to the white sheets.
If you interested to go to Everest base camp trek or would like to visit Dingboche village do not hesitate to write us. We are Khumbu region specialist trekking company based in Kathmandu, Nepal.
Please have a look and for any necessary changes and information on Tengboche to Dingboche walk, Everest three pass trek, Cho la pass trek and Everest base camp trek please feel free to contact us. We will be pleasured to assist you on the matter.