Phenomenal journey to Mt Everest base camp trek March, April & May
As you probably know, the Mt Everest base camp trek is without question one of the most popular locations for tourists all around the world. But there is a particular time of the year when people like to visit this place. The months of March April and May are definitely one of the best time periods to go. Here is all you will need to know about the Nepal side Everest base camp trek during spring season of the year.
Spring weather and climate on March April and May
The Mt. Everest base camp trek March, April and May is one of the most popular amongst travelers simply because of the beautiful climatic conditions during this period of time. This is the pre-monsoon time of the year. As such, rain is very infrequent and the temperatures during the day are warm and cozy.
The unique Sherpa culture is one to experience. There are great number of monasteries and museums on the way. Many travelers from around world visit Khumbu for Everest base camp trek or scale the highest peak Mount Everest.
Adventurous Everest base camp trek in spring season is perfect for regular or Everest summit trek to support Everest expedition members. The months of spring season are best time to travel Everest base camp trek in Nepal popular packages listed below.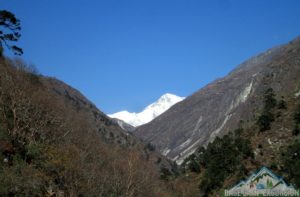 Everest base camp trek, 9 days, 10 days, 12 days, 14 days
Mount Everest view trek, 5 days, 7 days
Gokyo lakes trek
Everest Cho la pass trek
Everest base camp trek via Jiri
Luxury Everest base camp trek
Everest three pass trek
Ama Dablam base camp trek
Phaplu to Everest base camp trek
Gokyo to Renjo la pass trek
Average temperature in March April and May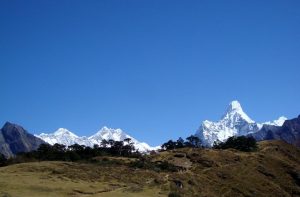 As mentioned before, the temperature during this period of time remains very moderate and tolerable. Average temperature above 4000 m quite similar it is minimum 15 degree Celsius to maximum of 22 degree Celsius during sunny days and the minimum of -10 degrees C in the morning and at night.
Wind conditions are also pretty moderate during this time of the year. The average temperature in the Everest summit during the months of March, April & May remains within a range of -30 to -40 degree Celsius.
Quick tips Mt Everest base camp trek in March, April & May
Altitude sickness can cause headaches so try to keep you hydrated at all times. Experience Fascinating Everest base camp trek you need to be physically strong to follow the strides of Sherpa Tenzing Norgay and Sir Edmund Hillary who climbed the Mount Everest in the year 1953. We are local travel agents Nepal specialized in Everest trekking region walking tours.
We organize Everest base camp trek, Gokyo lake trek, Everest view trek, Gokyo cho la pass trek etc year round. Check low cost fixed departure Mt Everest base camp trek March, April & May or contact us to get the private trekking trip quote. In case of any doubt, please do not hesitate to make an inquiry. We are heartily open to assist you on your query all the time.