Gokyo valley with Machhermo to Gokyo distance, weather & elevation
Machhermo to Gokyo distance is 5.7 kilometers. Trekking in the Gokyo valley is considered as a customary trek, and that offers trekkers splendid views of the Ngozumpa glacier as well as many mountain peaks. The remote valley is also known for its beautiful turquoise lakes besides the glaciers which are like a moonscape. The most accessible mountains that can be viewed from the valley very clearly and at an altitude of 8000 meters include the Cho-Oyu, Gyachung Kang, Mount Everest, Lhotse, Nuptse, and Makulu.
The place Gokyo valley has a miraculous surrounding and trekkers can feel an immense sense of success reaching the highest village. The Ngozumpa glacier 36 kilometers / 22 mile long originates below the sixth highest mountain in the world mount Cho Oyu Nepal. Ngozumpa glacier is the largest glacier in Nepal.
Embark on Gokyo lakes and Everest base camp trek to scale the elevation of Gokyo Nepal. ebc gokyo trek itinerary and packages listed here plan Everest base camp and Gokyo lakes trek according to your suitability.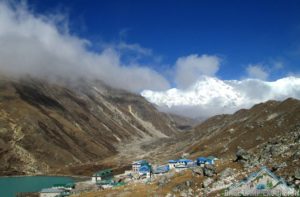 Everest base camp trek, 9 days, 10 days, 12 days, 14 days
Mount Everest view trek, 5 days, 7 days
Gokyo lakes trek
Everest Cho la pass trek
Everest base camp trek via Jiri
Luxury Everest base camp trek
Everest three pass trek
Ama Dablam base camp trek
Phaplu to Everest base camp trek
Gokyo to Renjo la pass trek
Gokyo Peak 5,357 m, 17,575 ft above sea level is the notable landmark of Gokyo valley. Alternative routes that passes throw Gokyo valley are Renjo la pass trek, Cho la pass trek, Everest three pass treks and Everest base camp trek. Machhermo to Gokyo lakes trek distance is about 5 to 6 hours. The path is a little steep, and it must be done in slow pace. The elevation of Gokyo village is 4790 meters / 15715 feet above sea level.
The noteworthy characteristics of the trekking in this valley are that it provides an incredible view of the ice ridge between Gyachung and the Cho Oyu which are located in the Khumbu region.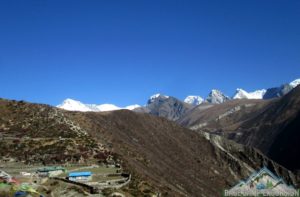 The Gokyo lakes in this region are regarded as the highest freshwater lake system in the world. The trek via the lakes takes the travelers through enthralling sights and provides them with an excellent experience. Travelers get a chance to see the Buddhist monasteries and snow towering mountains.
Go to explore the Gokyo lakes valley once in a life time to know; how exciting is the Gokyo Lakes trek amidst the Gokyo valley. If you interested to visit Everest trekking region write us to get the quote from destination expert. We are open to answer all your queries with generous and genuine information. Visit Gokyo lakes to explore its nature.