Gorak shep to Everest base camp distance, weather and elevation
Gorak shep to Everest base camp distance is 3.5 kilometers. Walking from Gorak Shep to Everest base camp is the most difficult part in whole trip because of the high altitude, rocky path and rough terrain. Landscapes, close up views of Khumbu ice-fall, Khumbu glacier and the base camp of highest peak are the main sight of this trip.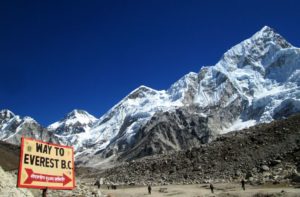 Everest base camp situated in the middle and on top of Khumbu glacier full of rocks and debris.
When you reach close to the EBC then there is no proper path to trek, slippery track. You have to find the path above glacier and walk very carefully to get the achievement to reach the base camp of highest peak. Upon reaching the Everest base camp and the highest glacier in the world you can see tents of mountaineers.
Gorak shep to Everest base camp trek distance is about 2 to 3 hours. The elevation of Everest base camp is 5360 meters / 17585 feet above sea level. The trek from Gorakshep to Everest base camp is a difficult one.
It is not quite an advisable for people who have a faint heart. The trail is not a smooth one and is filled with large boulders with the path being rocky and dusty and there is a dead drop right into the jagged and fatal glacier below. How is a typical day in Everest base camp trek like? You will witness some incredible scenic beauty on your way there.
Gorak shep to Everest base camp trek is the most waited hiking distance by the adventure lover from around the world. It takes 3 hrs for to go and return from Gorakshep Nepal.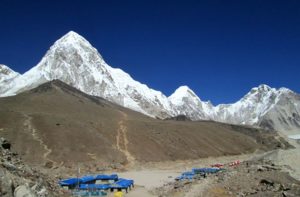 Everest base camp trek, 9 days, 10 days, 12 days, 14 days
Mount Everest view trek, 5 days, 7 days
Gokyo lakes trek
Everest Cho la pass trek
Everest base camp trek via Jiri
Luxury Everest base camp trek
Everest three pass trek
Ama Dablam base camp trek
Phaplu to Everest base camp trek
Gokyo to Renjo la pass trek
Khumbuste, Lingtren, Changtse and Pumori are the mountains can view from the base camp of Mount Everest.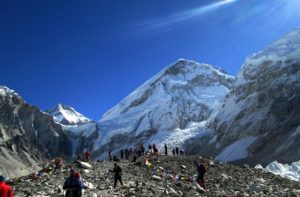 The scenery of the glacier as you trek your way across the trail is an amazing one. As you will make your way from the Gorak shep to EBC trek, you will have to navigate your way through a narrow pathway which is not anything less than a landslide and is almost halfway down the mountain.
Spring that covers the months of March to May and autumn months September to December are the perfect seasons to visit the Everest base camp trek. If you are interested to make the trip to Everest base camp Nepal write us. We are local trekking agency Nepal organize trip to the Himalayas. For any further information, please feel easy to contact us.