How much does the Everest base camp trek cost
Now, if you want to trek to Mount Everest base camp and want to find out how much it is going to cost, then you have come to the right place. Here you will find out in details what will be your overall expenditure. There are many who ask how much does the Everest base camp trek cost.
However, you have to keep a few things in mind because your cost will depend on it. Thus, make wise decisions how much does the Everest base camp trek cost. General prices for 12 days Everest base camp group trek with all meals, accommodation, hotel, guide, permit & round trip flight to Lukla range between US$1050 to $1175 per person.
Now you are clear "How much does it cost to go on a Mount Everest base camp trek" check available packages to hike to Everest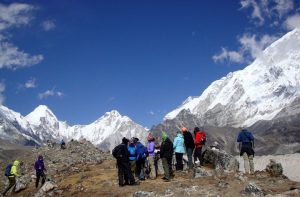 Everest base camp trek
Mount Everest view trek
Gokyo lakes trek
Everest Cho la pass trek
Everest base camp trek via Jiri
Luxury Everest base camp trek
Everest three pass trek
Ama Dablam base camp trek
Phaplu to Everest base camp trek
Gokyo to Renjo la pass trek
A few criteria on which your overall expenditure will depend
Here are a few criteria over which Everest base camp trek cost is going to depend on. All you need to do is think wisely through the questions and make a good decision. The key points are as follows:
For how many days do you want to trek to the Mount Everest base camp? On an average, the entire trek takes about 12 – 16 days.
You need to decide the best season on which you are going to trek. The peak season is much costlier than off season.
Make sure you buy the trek from reliable persons. Local agency in Nepal provide you cheap and best service then international agents. Find reliable local agents and travel guides then book in advance.
Which category hotel / lodge / tea house you are planning to use. Now luxury Everest base camp trek package also available. Make sure you would like to spend night at normal or luxury lodges or camping tent in Everest region.
Check you are booking full board trekking package including almost everything or partial like BB basic with trekking permit and support only.
Lastly, you need to make sure if you want a trek with a guide or without i.e. independent trek.
Be careful independent trek is ban in Nepal. Still trekkers are hiking independently in their own risk and missing few each years. It is not recommended use at least a guide and porter throw reputed agency for Everest trail, know "how much does the Everest base camp trek cost" update.
An essential tip for Mount Everest base camp trek
You choose a local trekking agency over an international one. The local agents will take care of only the local stuff. Thus, having a Nepalese agency is the best option is your cost is going to be much lower.
Extravagance is not something that you will be having thus; there is no need of a lavish agency. International companies also run the trip with the cooperation of local agents and guides in this way why you pay extra money. Connect local agency directly but you have to check about the company reputation and legal status.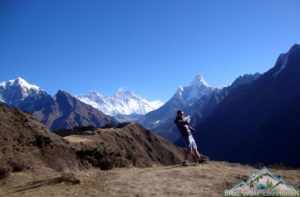 How much does it cost to go on a Mount Everest base camp trek
Here you find out how much wills the trek to Mount Everest base camp is going to cost. If you book online for your trek, then it is more likely that it is going to cost you more. For a trek that is for about 12 – 15 day of trek it will cost you something about US $1250 – $3700.
You can recalculate to know the Everest base camp trek cost Indian rupees by your own. A common question that might pop in your head is what does the coat include? It includes the price for TIMS, permit, round trip Lukla flight fare, food, accommodation, guide and porter. Kathmandu to Kathmandu services no need to pay extra except your personal expenses.
If you seeking bed and breakfast with guide porter and permit service only package then it cost about US$ 450 – 1050. We recommend you to book Everest base camp trek online is advance with local agency. Pay 30% deposit after booking confirmation and rest amount you have to pay after arrival.
We "Local Company" provide you best service and price if you booking online with us write an email. Know the updated price, departure date and how much does the Everest base camp trek or hiking Nepal.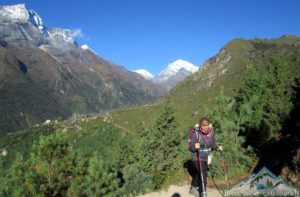 Benefit of online booking with trekking agency Nepal
If you are traveling with an online agency, and if you are somehow stuck for time, then everything is going to be per-arranged for your arrival. Thus start making wise decisions.
Hopefully, the above information has cleared your doubt regarding how much does it cost to hike to Everest base camp. Write us your approximate budget to do so and the group size we will send you customized itinerary and cost as per your requirements to make your Everest base camp trek meaningful including best Everest view points.