How to trek to Everest base camp Nepal Himalayas
Trekking to Everest base camp is considered as the most picturesque and dramatic in Nepal Himalayas. The scenery is spectacular and varied, the tracks and lodgings are of high standard, and the interaction with local Sherpa people is definitely memorable. There is no other place in the world as spectacular as the Khumbu region. Walking trip gives trekkers the chance to enjoy astounding views of the mountain and the opportunity to get a glimpse of the lives of the famous climbers of the world, the Sherpa.
What's it Like Trekking to Everest base camp?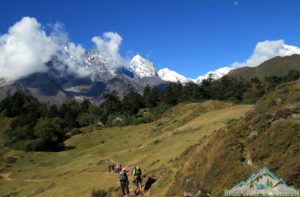 Apart from exceptional scenery, the travelers to the region will be able to experience incomparable Sherpa culture through visiting museums and monasteries along the way. Explore Sagarmatha National Park a heritage site in the world which is also home to varieties of Himalayan flora and fauna.
Days will be filled with hiking for sheer pleasure of it and past across swing bridges and colorful prayer wheels and flags. Evenings, on the other hand, are rewarded with hot foods as well as conversations with like-minded individuals around the bonfire.
Select the best company, compare cost, read the reviews, check route, select suitable Everest base camp treks itinerary according to your fitness level & then go to discover Mount Everest.
"How to trek to Everest base camp" Select the best company, compare cost, read the reviews, check route, select suitable Everest base camp treks itinerary according to your fitness level & then go to discover Mount Everest.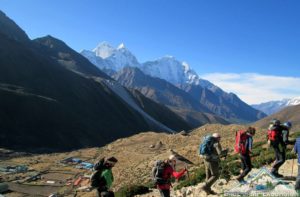 Everest base camp trek, 9 days, 10 days, 12 days, 14 days
Mount Everest view trek, 5 days, 7 days
Gokyo lakes trek
Everest Cho la pass trek
Everest base camp trek via Jiri
Luxury Everest base camp trek
Everest three pass trek
Ama Dablam base camp trek
Phaplu to Everest base camp trek
Gokyo to Renjo la pass trek
On the rest day in Namche bazaar, morning hiking to the best Everest view point to see Mount Everest panorama is really amazing. The combination of natural beauty, personal sense of achievement, fascinating culture, and warm hospitality from the locals makes Everest base camp trek Nepal Himalayas the most unforgettable in the world.
When is the best time to trek to Everest base camp
If you have the desire to come, explore and go trekking Everest base camp, it would be ideal to visit the place on the best season. The best time to trek is from the months of March to May and from months of September to December. The weather is warm and sunny with amazing views during this season. During May, it gets hoot and there's a possibility of rain. The month of December reaches below 0 temperature, yet the days are still pretty and there are some trekkers.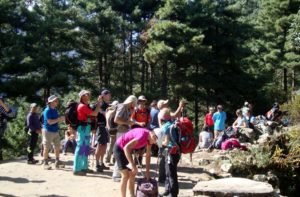 Do You Need a Guide? How to hire Guide in Lukla and Kathmandu
The government of Nepal considered hiring of a guide compulsory after the disappearances of several alone trekkers as well as death of trekkers during trekking period in Himalayas. However, the ban of solo trekking was put on hold, so for today, it is still possible to go for trek alone but not recommended. Though, hiring a porter or guide has numerous advantages. We are local adventure company based in Kathmandu and Lukla. Travelers from around the world can take advantage from our best Luxury Everest base camp trek service and arrangements with 10 years of experience in Himalayas.
We arrange everything for you including accommodation, Flight, airport transfers, guides or porters and insurance as well. Booking with international company obviously expensive we provide you cheap but best service on competitive price. We are government registered, tourism license holder local company, registered with TAAN or Trekking Agencies Association of Nepal as well. We organize full board package, BB trekking packages, and guide porter service according to your demand. We are happy to make you happier write us.
How fit do you need to be for Everest base camp
Your fitness is important before trekking. Nothing can prepare you for the extreme hills and altitude of trek. Those who have average fitness can do this. Slow and steady is the best way to achieve and enjoy trekking. Prepare with cardiovascular training a few times a week including hill climbing, lots of walking, swimming, and cycling. Consider having a 5-hour walk once every week. Search for hills or tall building and take the stairs.
What do you need for Everest base camp packing list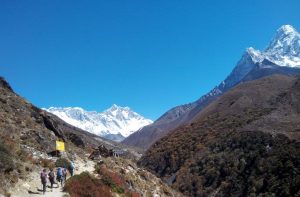 When trekking to Everest base camp Nepal Himalayas, you should pack lightly. It should be ten to fifteen kilograms only. Consider the load of your porter before including your huge bottle of shampoo and pair of jeans. Thermal underwear, fleece jacket, and down jacket are a must because the Himalaya could get cold above 3000 m at anytime. You should also talk long pants and t-shirts.
When it comes to footwear, you should bring trekking socks, sandals or sneakers for evenings. check properly how to trek to Everest base camp. You'll also need gloves, raincoat, and polarized sunglasses. A sleeping bag is also important. You must also bring first aid kit with you and other toiletries like lip balm and sunscreen and baby wipes etc.
Visiting this popular trekking route in Himalayas provides trekkers with a heady mix of captivating natural beauty and fascinating culture. Now you are clear how to trek to Everest base camp Nepal Himalayas write us to organize this trip.