What is the Mount Everest base camp trek best time of year
When is the best time to trek to Everest base camp? This is one question that every traveling enthusiast has asked around for an answer at least once in his or her life. After all, the Everest base camp located at the foot of the Mount Everest is a must visit place. But the conditions are always in favor of the traveler. So here is what you need to know about it.
Being an Everest region specialist local guide, it's our pleasure to inform you "what is the best time of year to trek Everest base camp trek". Check the packages below plan your trip in best time to of the year to visit Everest base camp Nepal for lifetime experience.

When is the best time to trek to Everest base camp Nepal
Everest base camp trek
Mount Everest view trek
Gokyo lakes trek
Everest Cho la pass trek
Everest base camp trek via Jiri
Luxury Everest base camp trek
Everest three pass trek
Ama Dablam base camp trek
Phaplu to Everest base camp trek
Gokyo to Renjo la pass trek
Mount Everest base camp and the best time to travel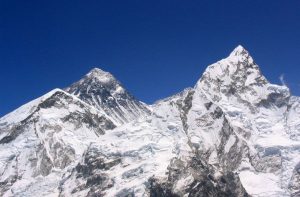 Mount Everest, lying approximately 28 degrees north of the equatorial line follows a seasonal pattern that pretty much any place in the Northern Hemisphere experiences. The Indian Monsoon winds bring about moisture and clouds from the months of June to August while the months of December to February are filled with cold.
Moderate climate follows the months of March to May and September to November. Let's check season wise; when is the best time to trek to Everest base camp.
Winter season Mt Everest base camp trek
This season extending from December to February is largely dominated by migration of the jet streams in the Northern Hemisphere towards the South.
This brings about a myriad of changes like colder temperatures, winds, and heavier snowfalls in this area. And while day temperatures can be dealt with, the night gets increasingly colder with each day. It is not the best season but some travelers trekking in Everest. It is to cold but the sky is very clear to see the views in winter.
Spring season Mount Everest base camp trek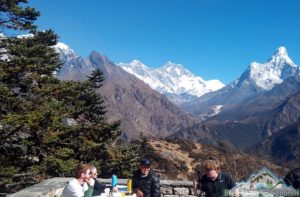 The period between March to May and the before of Monsoon is probably the best time to trek and climb. So many climbers come to make the Everest expedition summit in this season.
This is because the temperatures during the day are also very warm. In fact, a lot of trekkers out in their T-shirts, weather is warm and sunny with amazing views during this season sky is clear you can enjoy great scenery surrounding.
Monsoon season trek to Everest base camp
Trekking Everest base camp during summer or during Monsoon which falls on June to August might be affected by rain. If anything, you have probably understood that the monsoon season is not the best time to travel to Everest base camp. This period of time is dominated by cloudy days and frequent raining every day.
Obviously, the peaks are slippery, and it is not favorable for you to do climbing. Kathmandu to Lukla flight also delay every day, flood, landslide are common in monsoon season quite complicated to start from Phaplu to EBC and jiri to EBC also.
Autumn season Everest base camp trek
This is basically the post monsoon time of the year. Until the cold of winter kicks in during December, there is no rain at all. This makes, this time, the best time to go to Everest base camp for hiking. Fall is the best time to go to Everest base camp. It is peak season for trip up the Mount Everest. Highly recommended best time for Everest base camp trek is between mid September to end November especially for trekking and hiking.
And that settles all questions regarding the Everest base camp trek best time of year.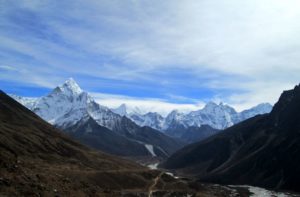 Spring season, March April and May, autumn season, September, October and November months are for Everest base camp best time to go.
Everest base camp trek during the best season trekker should keep in mind some essential tips. Be familiar with the basics knowledge of altitude. This trek can take you to the highest altitude without actually touching ropes, snow or crampons.
The Everest base camp trek can take trekkers to more than 17,600 feet. Be mindful about the weather forecast before trekking Everest base camp.
Learn about weather forecasts and determine the meaning of charts before you decide to take on the mountains. Now you are clear about when is the best time to trek to Everest base camp. We are local adventure tour guide Nepal organizing Everest base camp trekking before 10 years.
If you interested to visit Khumbu area and would like to know Everest base camp trek best time of year, trip cost, duration difficulty, map and advice write us. We are happy to organize safe and successful trip to Everest base camp with professional guide to make you happier write us.