How to prepare for Mount Everest base camp trek – be ready physically and mentally?
EBC trek is not very difficult. Trekkers embark on it successfully without any specific training or prior experience of trek. Physically fit anyone can make about 10 to 15 km of walking distance each day to reach Everest base camp Nepal. Trekking to Mount Everest can surely be your dream, but you should know about to complete your how to prepare for Mount Everest base camp trek trekking perfectly.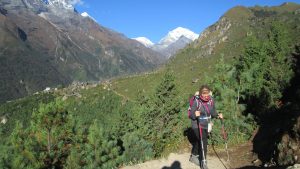 You need the proper training as well as a strong mental setup to complete the journey. There are number of monasteries, Sherpa villages and museums on the way and one is always welcome to drop in when you go trekking in Nepal.
Go for proper training to do Everest base camp trek
You cannot consider Mount Everest base camp as a technical climb. So even if you have any prior technical climbing experience with you, it is not going to work in this case. You have to properly train yourself for the same. Your body needs to be fit to sustain constant high altitude.
You need to do stringent physical exercise in four days within a week for three to four months before the trek to make your body ready for taking the strain of the trek. check this article how fit do you need to be for Everest base camp.
Training, practices and exercises helps you to prepare for a trek to Everest base camp trek by your own. Read given simple tips carefully that will improve your Everest base camp trekking in Nepal and help to face the challenge.
Everest base camp trek
Mount Everest view trek
Gokyo lakes trek
Everest Cho la pass trek
Everest base camp trek via Jiri
Luxury Everest base camp trek
Everest three pass trek
Ama Dablam base camp trek
Phaplu to Everest base camp trek
Gokyo to Renjo la pass trek
Mental preparation for Everest base camp trek
When you will stay in the base camp of Mount Everest you are not going to get a comfortable bed to sleep. Along with that your other daily works like toilet or cleaning yourself can also be a difficult task. There are some tea houses where you will be able to stay. Sometimes inside the mountain for a long time, you will not even find out the base camps nearby.
In that case, you will need to stay in outdoor. So, your mental preparation for the outdoor should be ready to complete the trekking without any problem. So, this is going to be a big part of Everest base camp trek preparation. Trekking guide arrange and provides best tea house accommodation. But some these are full and difficult to find the space at these situation guide arrange the camping tent. You have to be flexible to spend night in tent if require.
Hydrate yourself
When you reach the high altitude, your body will dehydrate very quickly. So, you need to hydrate your body as much as possible to sustain the strain you are going to get. You need to take at least five liters of water on daily basis. You need to keep it ready at night before you start trekking on the next day. You can fill up the bottles with the hot boiling water and then throughout your journey you can use it as many times as you want.
Select the right gear
During trekking holidays in Nepal you have to have the right selection of trekking gears to make Everest base camp trek easy. Check personal Everest base camp trekking equipment's list. Before starting trip consult your doctor and keep personal medical kit with you.
Follow Slow, safe and sure ways to go
Hiking high sleep low is the best way to minimize the risk of altitude sickness. Company designs the itinerary with enough rest for acclimatization. When you are plan to go to high altitude always you have to walk slowly. Slow hiking uphill helps you to make your body fit for the local weather and altitude. Guide instructs and helps you to walk in uphill to make successful journey.
Select best agency for Everest base camp trek
Trekking at the Everest base camp is not only about spending hours wandering and hiking. Select best agency those provide experience guide and porter. Here are the tips to know which is the best company for Everest base camp trekking. This trek can take you to the highest altitude without actually touching ropes, snow or crampons.
You need to keep in mind that trekking to Mount Everest is physically straining, but when you enjoy the journey, then only you will get the pleasure of the trek. Just follow the Everest base camp trek tips to successfully complete the trekking. You are on holidays; enjoy lifetime trip to Everest base camp memorable forever.
After reading this post you are clear on How to prepare for Mount Everest base camp trek. We are world highest base camp trek specialist travel guide to the Himalayas. Local agency provides cheap and best service including information How to prepare for Mount Everest base camp trek write us. we are happy to organize your Everest base camp trek to make you happy.