Top 10 tips to make successful trekking to Everest base camp trip
If you are one of the persons who love to hike, then you should definitely check out the hiking tour in Nepal. Check Top 10 tips to make successful trekking to Everest base camp trek, before go! The trek to Everest base camp is one of the most wanted treks in the world. You should know that it is not easy.
You have to keep a lot of things in mind. You need to make sure that you pack your bags correctly. Do not lose out on any single thing that might turn out to be very critical for the trip. Here are a guide and few tips for trekking to Everest base camp.
Khumbu exploration packages and tips for Everest base camp trek in Himalayas read carefully before go all Top 10 tips to make successful trekking to Everest base camp.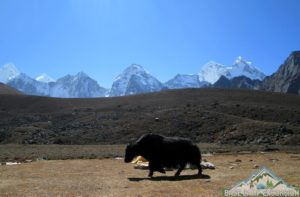 Everest base camp trek, 9 days, 10 days, 12 days, 14 days
Mount Everest view trek, 5 days, 7 days
Gokyo lakes trek
Everest Cho la pass trek
Everest base camp trek via Jiri
Luxury Everest base camp trek
Everest three pass trek
Ama Dablam base camp trek
Phaplu to Everest base camp trek
Gokyo to Renjo la pass trek
Top 10 tips for a trek to Everest base camp Nepal Himalayas
1: You need to know when to go to Everest region
Autumn and spring are two of the most pleasant season for trekking. Average temperature in autumn and spring is minimum 16 degrees centigrade with a maximum of 25 degrees centigrade in sunny days. During night and morning minimum of -15 degrees centigrade it is more or less similar temperature above 4000 meters in the Himalayas.
However, the months from December to February can turn out to be too cool, but the location also matters to determine the temperature. Thus, the months from March, April, May and September, October, November are the best time to go to discover Mount Everest and Khumbu region. Know more about Everest base camp trek best time of the year.
2: Train for Everest base camp trek before go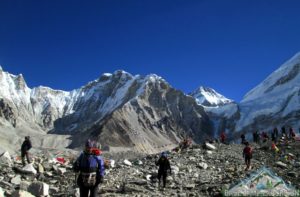 It is important to get involve in physical training before heading to Everest base camp. It is world famous walking trail; you are going to high elevation above 5000 meters. Some trekkers trek to base camp without any physical training but it is not good idea. If you would like to make this journey enjoyable and memorable then physically fitness and training is essential.
It is not a technical ascend but physical training and mental preparation helps you to make this trip easy and comfortable. We recommended you to do some physical exercise more or less 1 to 2 months prior to hiking start date. Check Training plan for Everest base camp trek with advice.
3: Need to know where to go walking route of Everest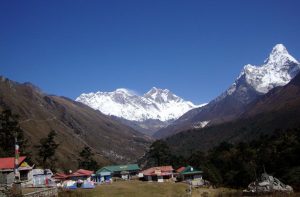 The fact that you are going for a trek to Mount Everest base camp is wonderful. However, you need to know the very initial step to go. Try and find more information regarding trekking camps, places to stay, things to do and trekking route.
It is recommended that you have to have a trekking route map, experience guide from reputed trekking agency Nepal. Guide lead you during trekking period where to go and where not. You can check and buy Everest base camp trekking rote map with us.
4: Select right Everest base camp gear list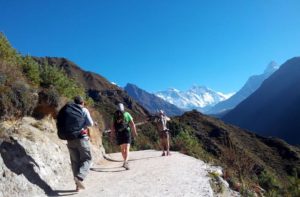 Right hiking gear selection makes your Everest base camp trek more comfortable. We are maintaining all require Everest base camp trek packing list to help the trekkers in Himalayas. Check essential gear for Everest base camp trek packing list for the female trekker and male best for both beginner and professional hikers.
Clothes are the important factors for trekking high altitude. You need to put on layers because of the temperature difference. Thus, you need to very careful to select the clothes.
5: Documentation / visa, TIMS and permit
Proper documentation is required while traveling. Tourist visas and other essential are crucial for trekking purpose. Travelers from around the world get arrival visas in Nepal airport easily. Beside that you have to obtain two trekking permits to go for trekking in Everest region.
TIMS "trekkers information management system" and Sagarmatha national park entry permit are essential. You don't have to worry about anything to issue the permit trekking agency do everything for you. Travel insurance also requires for this trek to use the helicopter rescue service in case of emergency. Keep your travel insurance close by.
6: Acclimatization and Hydration are Keys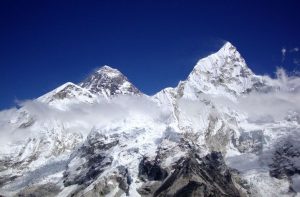 Going uphill slowly is the key to success to reach the Everest base camp 5360m. Our all trekking itineraries are design by the expert to minimize the risk of altitude sickness. We provide two days rest at niche and Dingboche. It is recommended that you have to drink 4 to 5 liters of water every day to keep your body hydrate.
Every day guide brief about upcoming day's program schedule in the evening. Guide lead the trekking trip with the climb high sleep low method. Stay out of the sun whenever possible. It 100% sure to success your Everest base camp tours.
7: Health checked up before you leave
Get your health checked up before you leave for the expedition. Only a doctor will be able to state whether you are fit to perform the hiking to Everest base camp or not. The intestinal complication is the most common health problems that take place to such heights. Your personal doctor knows very well about your health. Carrying prescribed proper medication is the best way to control the situations. Trekking guide, porter also carry the medical kit for emergency use. Carry personal medical kit and know how to use it. Stay healthy and keep happy during Everest trekking.
8: Pay your respect
When you are on trekking in Khumbu; you have to be very well aware of their social behavior and work according to that. During trekking period you cross many Sherpa villages and meet many people. If would like to do something special in this area, you can bring candy, books, pencil, toys for local kids. Nepali people are very friendly and fare when you meet new people say Namaste!
9: Bring book, snacks, nuts, water purifier etc
Bring book, snacks, water purifier and other require things for your personal use. Make most of your purchases at the lower towns. Buy all your trekking gears in Kathmandu. It is very expensive to buy on the way to EBC and Namche bazaar. Calories full chocolate and other snacks are useful to boost energy during the day time. There are certain foods available on trekking route.
Trekking company provides breakfast lunch, dinner and tea coffee only. Some time you don't like to eat the regular food. In that case these snacks, chocolate, nuts other food which you like most are good, carry some stuff with you. When necessary you can eat it.
10: Schedule extra days at the end
Lukla lies in mountain region 2,860 meters above sea level. Weather and climate of this places change frequently, it is unpredictable. In this way we request you arrange at least 2-3 extra days except trekking duration. Some time Kathmandu to Lukla and Lukla to Kathmandu flight are delayed due to the weather. If you have only one day then there is maximum chance to miss the trip as well as the connection flight to your country.
In case the light cancels you have to wait either for next days or you have to fly by helicopter.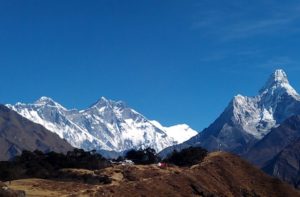 Helicopter flight fare is expensive, when you have travel insurance you can use helicopter and claim in insurance company too. To manage the time and run the trip properly, It is highly recommended you to Schedule extra days at the end of Everest base camp treks.
These were a few useful tips for Everest base camp trek. Everest trekking route is the most delightful region of Nepal. Travelers fly from Kathmandu to Lukla then start hiking towards Everest base camp. It is unique experience to fly over the mountains of Himalayas spectacular. We organize luxury Everest base camp trek, Gokyo lakes trek, Everest view trek and more in Khumbu region also. If you have even more question and confusion regarding Everest base camp trekking route write us.