Amazing walking holidays to Everest base camp tours Nepal
Walking holidays to Everest base camp trek is the most beautiful adventure one can ever think of their lives. Everest has been a fascinating beauty attracting thousands of visitors from all across the world. The best months for trekking in Mount Everest base camp are May, April, May and September, October, November.
The weather is clear in these months and it provides a fantastic chance to see the whole peak and surrounding scenery. It provides the trekking enthusiasts a lifetime experience. Trekking wouldn't have been exciting without exploration Everest base camp and hiking Kalapatthar. It has always been amazing to be at Everest base camp trek Nepal side.
Walking holidays in Nepal trips to Everest region offers spectacular mountain scenery to discover Mount Everest by walking in Nepal.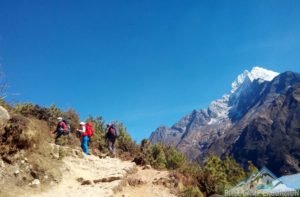 Everest base camp trek, 9 days, 10 days, 12 days, 14 days
Mount Everest view trek, 5 days, 7 days
Gokyo lakes trek
Everest Cho la pass trek
Everest base camp trek via Jiri
Luxury Everest base camp trek
Everest three pass trek
Ama Dablam base camp trek
Phaplu to Everest base camp trek
Gokyo to Renjo la pass trek
Mount Everest base camp trek has been a desired location for many people you can trek to explore its best of nature and Sherpa culture. Exhilarating views can be witnessed when you take a trip by plane to get to the base camp. The ideal seasons for trekking in the Mount Everest in Nepal is spring and autumn and the temperature during the spring season is about 20 to 25 degree C.
The temperature in autumn season is 15 to 20 degree C and depending on your convenience you can opt to travel to this destination. If fortunate you will also have the pleasure of exploring the wildlife and flora of the region.
Trekking to the Everest base camp is not an easy task. You have to be very careful in each step while walking, good to go with experience guide to make safe and successful journey. We are Everest trekking region specialist travel guide Nepal organize 100% successful trip in competitive price.
If you would like to discover Mount Everest and like to join Mount Everest base camp trek private and group joining trip email us. We organize walking holidays to Everest base camp tours Nepal as per your desire and duration.