Best backpack for Everest base camp trek and daypack size
Here we are going to advice you the best backpack for Everest base camp trek. Trek to Everest base camp will be one of the best things you are going to experience in your life. While trekking to the Everest base camp you will come across many memorable and adventurous places. The magnificent views will make you fall in love with the place. Size of daypack, duffel bag and backpack for Everest base camp trek given below, decide and buy according to your requirements.
Daypack size for Everest base camp trek
Your trip start after breakfast, to carry daily essentials you need medium size day pack about 15 to 20 liter. Here is the list of essential things that you catty on your small day pack. You should carry important documents, passport, trekking permits, money mobiles and camera in daypack for Everest base camp trek. Total weight of your day pack is not more then 5 to 7 kg.
Carry your belongings in best backpack for Everest base camp trek, separate things in luggage and day pack. Mount Everest base camp trekking gear list helps you select the require equipment's to pack or rucksack.
Everest base camp trek, 9 days, 10 days, 12 days, 14 days
Mount Everest view trek, 5 days, 7 days
Gokyo lakes trek
Everest Cho la pass trek
Everest base camp trek via Jiri
Luxury Everest base camp trek
Everest three pass trek
Ama Dablam base camp trek
Phaplu to Everest base camp trek
Gokyo to Renjo la pass trek
Mount Everest base camp kit list advice
You can carry suns cream, first aid kits, daily medicine, water bottle, hat, scarf, toilet paper, hand-sanitizer and wet wipes etc. Porter carries rest of things on duffel bag. He walk before you and reach the camp early. In this way you have to carry your daily stuff by your own in day pack.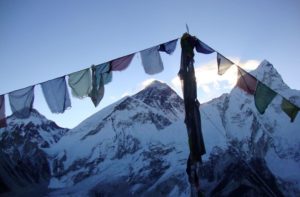 Best backpack for Everest base camp trek
Everest base camp backpack size can be 45 to 75 liter. it is used to carry your all stuff for whole trip. if you are traveling without guide and porters. You need to carry clothes to layer your body with it one by one. Keep woolen socks, thermal wear, coats and jackets, hats, gloves and boots.
You can keep sleeping bag, sunglasses, watch with alarm with you. If you are carrying DSLR camera, keep extra batteries for it and also for mobile phones. Take chocolates and snacks with you as you might not get your favorite one there. Always keep first aid box with you, you will need in any case of emergency. This is the best backpack for Everest base camp trek. To make your trek convenient for you, try to carry only such things which are important. You can buy local products from there and encourage their trade.
Duffel bag for Everest base camp trek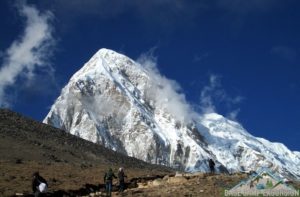 While going for Everest base camp trek you will need a backpack to keep all your stuffs. The climate is very extreme and it keeps on changing every next minute. At day you can experience a temperature of about 10*C but at night the temperature can go below 0*C.
So, you need clothes to layer yourself to keep you warm, mostly during nights, morning and evening. To keep all your stuffs you will need a duffel bag of about 75 to 100 letters medium size Duffel bag is the best. While buying a duffel bag, choose the one without wheels because it will make difficult for porters to carry.
We are world's top ten highest peak base camp trekking specialist Adventure Company based in Kathmandu, Nepal. If you interested to go to Mount Everest base camp trek write us we are happy to organize your trip to explore the Himalayas Nepal.