Daily travel diary a Mount Everest base camp trek journal
Read the Mount Everest base camp trek journal which provide clear image of the situation and surroundings of the base camp of the highest mountain in the world. The Daily travel diary of Mount Everest base camp trek written by those who had participated in the Everest base camp trek will be mainly about their exciting experiences as well as pleasant memories. Adventure travelers share their experiences during the trek through their daily Everest base camp travel diary.
When you interpret daily travel diary of Mount Everest base camp trek; journal helps you to prepare mentally, physically about a lot of doubts, fears and confusion read faqs also. Genuine answers of experienced travelers are the best solution of their problem. It inspires folks to visit Everest base camp and handle the situation easily.
Khumbu region Nepal holiday packages to see the Everest listed here for reference. Enjoy walking holidays to Everest base camp with local adventure company and guide.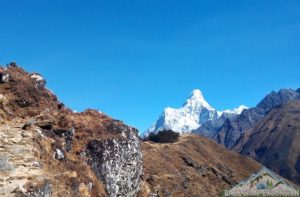 Everest base camp trek, 9 days, 10 days, 12 days, 14 days
Mount Everest view trek, 5 days, 7 days
Gokyo lakes trek
Everest Cho la pass trek
Everest base camp trek via Jiri
Luxury Everest base camp trek
Everest three pass trek
Ama Dablam base camp trek
Phaplu to Everest base camp trek
Gokyo to Renjo la pass trek
Day 1: Lukla to Phakding trek after Kathmandu to Lukla flight
First day of Everest base camp trek start with scenic mountain flight to Lukla airport. It takes 32 minute to reach Lukla from Kathmandu by small aircraft enjoying great views of the Himalayan peaks. After landing to Lukla guide arrange porter for trek, briefing about activities for the day then heading towards the Phakding village passing through Chaurikharka, Chheplung & Ghat villages.
Monasteries, Mani wall, memorial Chhortens, prayer wheels and Sherpa villages are on walking trail spellbound the travelers. In the middle of the trekking take a short break for lunch.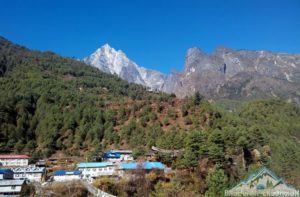 Lukla to Phakding trail is a beginning part of EBC trekking in Nepal, find best accommodation at Phakding lodges or tea house.
Day 2: Phakding to Namche bazaar hiking
After breakfast, guide brief about Phakding to Namche trek distance, its situation and difficulty level and advice and tips to make it easy and safe. The experiences on the second day make one of the most interesting sections of the Mount Everest base camp trek journal.
Day walk begins with flat track, crossing suspension bridges, short up and down hill trail till Larja dovan. Steep uphill routes start from Larjadovan up to Namche bazaar, all the way through high suspension bridge and pine forest.
Day 3: Hiking to Everest view hotel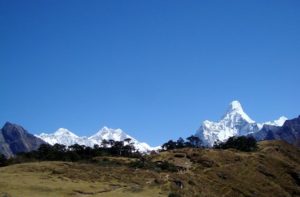 Third day of Everest base camp trek is an important day for acclimatizing in Namche to minimize the risk of altitude sickness. Guide brief on the subject of Mount Everest base camp trek daily schedule to explore Namche bazaar, nearby Everest view point, Khumjun and Khunde villages.
During the acclimatization walk, the trekkers enjoy the views of the majestic peaks like Mount Everest, Ama dablam, Nuptse, Lhotse, Kusum Kanguru, Thamserku, Kangdeka, Kongde, Sundar peak, Tawoche and others.
Day 4: Namche bazaar to Tengboche or Phortse village
After breakfast trek continue towards Tengboche or Phortse village according the interest of trekkers. This part of trekking route is very interesting because we can explore the verity of flora and fauna including Himalayan Thar, musk deer and multicolored pheasants etc. Splendid mountain views, valleys and gorges are interesting to see while hiking. Most of the trekkers follow classic trek and go to Tengboche directly but some travelers trek through Phortse village to avoid the crowed on regular trail.
Take a short tea break at Kyangjuma observing beautiful Mount Amadablam. On the way to Tengboche take lunch break at Phunki Thanka before steep ascend through the forest. Tengboche Monastery is the biggest monastery in Khumbu area. it was built centuries ago where one can see here monks chanting prayers.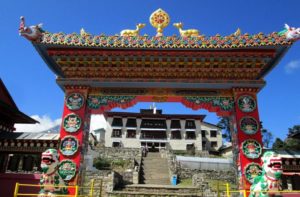 Day 5: Tengboche to Dingboche trek via Pangboche
Tengboche to Dingboche trek start after breakfast to cross the tree line of Everest base camp trail. Walking through the rocky path is really tedious but, the mountain views are spectacular. Due to thin air pressure on high altitude some may experience difficulty while breathing.
The guide will provide all help any time with smile. Trekkers stay in lodge of Dingboche village & drink plenty of fluids to get relief from the altitude sickness. On the second day of the stay at Dingboche for acclimatization, the trekkers go for a short hike to see the spectacular views of Lhotse, Makalu, Island peak, Amadablam and more.
Day 6: Dingboche to Lobuche trek
Dingboche to Lobuche distance is not very long but takes time because it is not easy to walk in high altitude like low elevation. Visitors become tired here because of low level of oxygen. Walking trail till Thukla is more or less flat, after Thukla steep ascend till Memorial park (Thukla pass).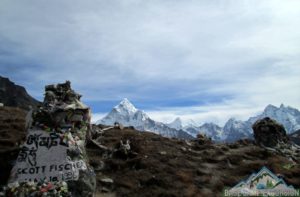 Observe the Scott Fischer memorial chhorten in Everest as well as other climber's memorials at park.
Trek continues towards Lobuche village along the Khumbu glacier. In the afternoon, trekkers climb a small hill to enjoy amazing views of Khumbu Glacier & Icefall, Kala Patthar and the Himalayan peaks.
Day 7: Lobuche to Everest base camp via Gorakshep
In the daily travel diary about Mount Everest base camp trek, the 7th day is highlighted as the most significant day because the trekkers reach the Everest base camp Nepal. Tourist guide takes the sightseer from Lobuche to Gorakshep in 3 hrs then to EBC 5360 m in 2.30 hrs. The visitors are excited when they stand at the base camp of highest peak of the world. After taking photos of happiest moments return EBC to Gorakshep and stay there for one night.
Day 8: Trek to Kala Patthar and down to Pheriche
Kalapatthar hiking is the main attraction of Everest base camp trek because trekkers see grand view of Mount Everest from Kalapatthar. Hiking towards Kalapatthar from Gorakshep start at 4 am and reach the top within 1.30 hrs. From the top of Kala patthar, you will get the great view of the rising sun above Mount Everest.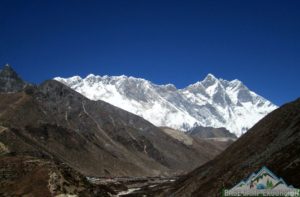 When the rays from the sun hit the White Mountains, it became golden in color.
Trekkers also enjoy the views of Khumbu glacier and Khumbu Icefall. After exploring highlights of Khumbu region, trekkers back to Gorakshep and take breakfast. Guide and porter support trekkers for descending march all the way to Pheriche village through Lobuche and Thukla.
Day 9: Pheriche to Namche bazaar trek
9th days of Mount Everest base camp trek travel dairy start with descending walk towards Namche. After successfully completing Everest base camp trip trekkers organize party, enjoy great moments with guide and trekking staff.
Day 10: Namche bazaar to Lukla trek
After breakfast travelers pack their luggage and continue the downhill walk on the way to Lukla Nepal. Farewell dinner with guide and porters make final hours of stay in the Everest region more exciting.
Day 11: Lukla to Kathmandu flight then transfer to hotel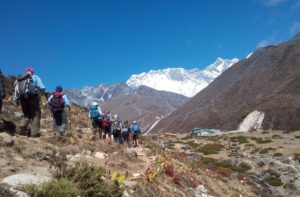 11th days of Everest base camp travel dairy begins with breakfast at Lukla. Prepare luggage and proceeded to Lukla airport for Kathmandu flight. Bird eye view of mountain sights and landscapes from the window of aircraft provides lifetime memories.
In this Everest base camp trek journal, the eleventh day is the final day of EBC trip. The trekkers fly back to their native places from Kathmandu.
Daily travel diary about Mount Everest base camp trek is a useful resource for novice trekkers, read trips and advice properly. After reading Mount Everest base camp trek journal still you have any more question and confusion do not hesitate to consult us.