Which is the best trips to Everest base camp Nepal vs Tibet
The scenery of Everest base camp Nepal Vs Tibet is more or less similar but the landscape below the base camp area totally difference. North side Everest base camp situated at an altitude of 5200 meters /17,056feet in Qomolangma National Nature Reserve Tibet. South Everest base camp situated at an elevation 5364 meters / 17598 feet in Sagarmatha national park Nepal.
Are you planning to visit the mount Everest base camp north and south or Tibet & Nepal then you must know about Everest base camp trek Nepal vs Tibet in detail. Both base camps either Nepal or Tibet are safe place to visit and the destination of dream for all adventure lovers. They fell proud after achieve the goal to reach the base camp of Mount Everest.
Trips to Nepal suitable for all select & book best trips to Tibet and Nepal.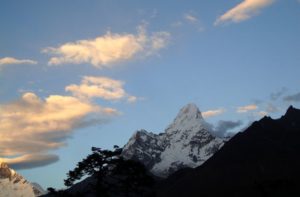 Everest base camp trek, 9 days, 10 days, 12 days, 14 days
Mount Everest view trek, 5 days, 7 days
Gokyo lakes trek
Everest Cho la pass trek
Everest base camp trek via Jiri
Luxury Everest base camp trek
Everest three pass trek
Ama Dablam base camp trek
Phaplu to Everest base camp trek
Gokyo to Renjo la pass trek
Among of these two Everest base camp trek Nepal vs Tibet, the Nepal side is most popular because first successful summit of Everest by Hillary and Tenzing made throw this way. South col is the easiest climbing route of Mount Everest. Travelers can go to discover without any obstacle; in this way Everest base camp trek route from Lukla,
Salleri and Jiri to Everest base camp trek are busy & most popular. All trekkers spend 2 nights in Namche Bazaar for acclimatization. They get the opportunity to be with the Sherpa, enjoy the beauty of nature and experience the Sherpa culture.
Let's check which is best Everest base camp trek from Nepal side Vs Everest base camp tours Tibet side?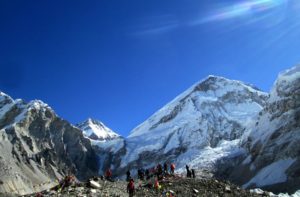 South Everest base camp Nepal
Those who want to reach the Everest base camp Nepal side can take the flight from Kathmandu to Lukla Airstrip. Beside that there are few more alternative options to explore EBC via Jiri, Salleri, Tumlingtar and Rolwaling valley. From Namche Bazaar, the trek will go higher and higher and the trekkers will enjoy their visit to the towns of Tengboche and Pangboche.
On the way they visit the Buddhist monasteries also. Travelers from around the world get Nepal visa on arrival easily. EBC trek Nepal can be arranged simply from Kathmandu and will take just two weeks to achieve. Check Everest base camp trek package with cost and itinerary that we offer.
North Everest base camp Tibet
When one wants to consider Everest base camp Nepal Vs Tibet, detailed knowledge about the trip from Tibet to Everest base camp is essential. Again, this is also not an easy task. Reaching Tibet itself is not a smooth affair. One must obtain special permits to travel in Tibet. In order to make the trip less complicated, many visitors fly from Kathmandu to Lhasa. It takes 2 to 3 days drive from Lhasa to reach Everest base camp north.
Overland entry China via Nepal does not exist at this moment. Since few years it is quite complicated to visit China "Tibet" from Nepal because of the closed border for overland entry. Other rules, regulations & requirements like 4 persons on groups from the same nationalities, not issuing the regular visa to visit Tibet from Kathmandu make it uneasy to travel. If you have time and desire to visit Tibet then Everest base camp north is an amazing place to see in the earth.
Nepal Vs Tibet Everest base camp trip
Before making a final answer to "Mount Everest Nepal or Tibet?" one may consider some other aspects also. Everest base camp trek Nepal Vs Tibet, the way from Tibet is very dry different the way from Nepal. The exciting trip from Nepal and the awe-inspiring landscape make the trip to Everest base camp from Nepal a memorable experience.
Those who proceed from Tibet to Everest base camp get the opportunity to know cold and dry land and understand more about the high mountain in the world. While the journey by driving is comfortable, the journey by walking is more exciting.
Which is best Mount Everest Nepal or Tibet
When we consider Everest base camp trek Nepal Vs Tibet, we may consider Nepal as our favorite choice because the trek to Everest base camp from Nepal is more adventurous, more exciting and with less formalities. I think now you are clear to make the decision which is the best trips to Everest base camp Nepal vs Tibet. We organize Everest base camp trek in both destination to show you the awe-inspiring view of highest peak write us to get the latest quote.