Mount Everest base camp trek without a guide and porter
The feat of trekking Everest base camp without guide is something that a lot of people have tried to achieve in the past. However, it is not as easy as it may seem to appear at first glance. So if you also have the idea of doing this, here are some things that you should know about trekking without a guide.
When you are planning to do independent Everest base camp trek no guide and porter think twice. Each year many trekkers are missing in popular trekking areas also like Everest, Annapurna and Manaslu region.
Awesome packages to Everest base camp trek on a backpacker budget.

Everest base camp trek
Mount Everest view trek
Gokyo lakes trek
Everest Cho la pass trek
Everest base camp trek via Jiri
Luxury Everest base camp trek
Everest three pass trek
Ama Dablam base camp trek
Phaplu to Everest base camp trek
Gokyo to Renjo la pass trek
Path and Direction when trekking to Everest base camp
Well, you are probably under the impression that no one can survive climbing to the top without the help of a guide. And while that is true to an extent, the path is rather linear and pretty obvious for anyone to see.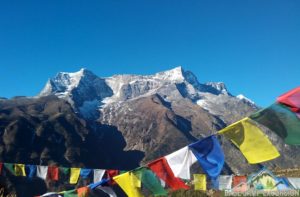 EBC trip without a guide is pretty simple and straight forward when it comes to following directions.
A Sensible Choice best Everest base camp trek guide
The main attraction of an independent Everest base camp trek no guide is the sense of adventure one gets from being all alone in a place like that. But in the end, from an economical and sensible point of view, is it really worth it all? To absolutely fair, the answer would be a No. There are a lot of disadvantages to doing this. Here are some of them.
You will have to carry all of your hiking items yourself, and most of them are very heavy in weight. It is almost impossible to do so alone.
Trekking to remote areas will be risky as well as difficult for travelers.
Hiking to Everest base camp without a guide also means following your own sense of direction. And while this is not too big deal, they often know shortcut routes and make your travel a whole lot easier.
If you have a guide, he or she will be able to tell you the equipment you need for your trip. Once again, this isn't too big of a problem but having a guide definitely makes things simpler.
Dealing with altitude is also a huge task that lies ahead of any climber. A guide can give you better tips on how to do so.
Everest base camp trek without guide and porter not recommended
Check complete guide to Hiring a guide for Everest base camp As you can see, it is not recommended to trek to Everest base camp without a guide and porter.
The bland conclusion to all of this is that it is best for everyone to get a guide for themselves during a trekking trip. In fact, it is ban independent trekking but still trekkers going in their own risk. Make sure you do not do the same unless you're an expert.
Now you are clear what do you need to know about independent trekking pros and cons in guide and porters. Many people missing in Khumbu region each year. We don't like to see your name and photo under the list of missing people in Everest.
Be a responsible traveler give something back for community hire at least a guide or porter make easy and safe trip. We organize full board Everest base camp trek alone as well and guide porter service from Lukla. If you need help to organize the trip to Everest base camp or need a guide or porter service email us.