Everest base camp vs Annapurna base camp Nepal
Those who plan their very first trip to Nepal will have a dilemma regarding the trek that they have to take either Everest base camp or Annapurna base camp. Most of the travelers want to know about ABC vs EBC trek before traveling to Nepal. Here we are going to make you clear which is the best, Everest base camp vs Annapurna base camp trek and why.
When tourist consider Everest base camp vs Annapurna base camp, trekkers should take into account the pros and cons of both treks. Everest and Annapurna trek, both treks can complete within 12 to 13 days. There are many possibilities to reduce the trekking duration to explore Annapurna century but if you prefer Everest base camp trek it requires minimum 12 days.
Both walking trails of Nepal are popular trekking trips in the planet, highly recommend by the travelers and travel guides. It is a well known fact that trekking to Everest base camp is really courageous while trekking to Annapurna base camp is a sight-seeing trekking at lower altitudes. Visit once in a lifetime these trails to discover its amazing nature & culture Annapurna and Everest base camp treks.
Mount Everest base camp trekking in Nepal is a lifetime adventure book the package to embark on. Everest base camp trekking itinerary can be customized according to your needs and length of stay in Nepal.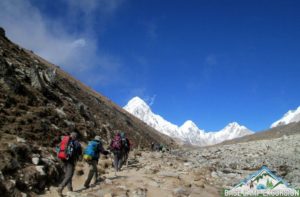 Everest base camp trek, 9 days, 10 days, 12 days, 14 days
Mount Everest view trek, 5 days, 7 days
Gokyo lakes trek
Everest Cho la pass trek
Everest base camp trek via Jiri
Luxury Everest base camp trek
Everest three pass trek
Ama Dablam base camp trek
Phaplu to Everest base camp trek
Gokyo to Renjo la pass trek
Everest base camp vs Annapurna base camp by altitude and difficulty level
Highest elevation that you reach during Everest base camp trek is 5360 EBC south. If you would like to go to Kalapatthar then it is 5545 meters above sea level. Everest base camp trek is a moderate plus trek; physically fit any one can reach the EBC the base camp of the world's highest peak.
Highest altitude that trekkers can reach on Annapurna base camp trek is 4210 m. it is categorized in moderate grade trek. During this trek travelers can visit the base camp the 10th highest peak of world.
During Everest base camp trek trekkers can see surrounding high Mountain view from the beginning to end but on Annapurna base camp trek route you spend less time in, or surrounded by, the Mega Mountains. Enjoy the trekking to Everest base camp is an inspirational adventure with local trekking agency Nepal.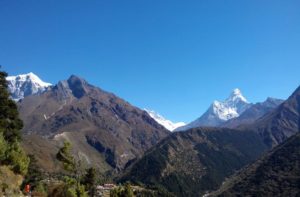 Everest vs Annapurna trekking by local people and culture
Sherpa people are the main residence of Everest trekking region. Most of the Sherpa people are Buddhist influence by the Tibetan culture. Everest base camp trek start from alpine zone and the Annapurna base camp trek start from sub-tropical climate.
Sagaramatha national park permit and TIMS require for EBC and Annapurna conservation area permit and TIMS require for Annapurna sanctuary trip.
Ethnic people Magar and Gurung are the main dwellers of Annapurna area. Most of them believe in Hindu and Buddhist religion. Those who crave for an atmosphere of spirituality are sure to find Everest base camp their best destination. They can pass through the Sherpa villages in Namche Bazaar and also visit the Buddhist monasteries. Those who are more interested in agriculture will enjoy their trip to Annapurna base camp since they get the opportunity to interact with the farming communities.
Annapurna vs Everest base camp trek cost difference
Everest base camp trek is quite expensive the Annapurna. The desires of travelers to achieve the goal to be in Everest play the great role to make Everest base camp more popular. Those who want to enjoy the beauty of mountains are sure to find this place their best choice.
Annapurna base camp trek popular between budget travelers. The beautiful view of Annapurna, Dhaulagiri range makes this trek crowded. The culture and hospitality of Magar and Gurung people make this destination an interesting place to visit. Those who enjoy scenic beauty of nature will get excited while going through the Annapurna trek.
One can view Terraced rice fields and beautiful oak forests and rhododendron forests while passing through the lower foothills of the Himalayas. The months of autumn and spring season are the best time to visit both trekking destination.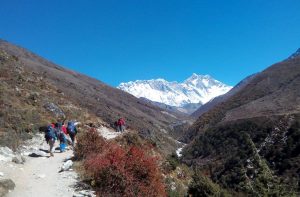 How to reach Everest base camp vs Annapurna base camp
When one is considering Everest Vs Annapurna trek, the first aspect to see is how to reach the respective region. World famous Everest base camp trek start after landing at Lukla Airstrip. Throughout the flight the visitors can enjoy spectacular views of the Himalayas.
It is not accessible by bus / jeep or car. It starts after Kathmandu to Lukla mountain flight. If you would like to start trek from Jiri following the footsteps of Hillary or from Phaplu & Salleri then there are possibility to go till trek starting point by jeep, car or bus. If you start from Jiri or Phaplu takes 3 to 7 extra days then Lukla to Everest base camp.
To go to the Annapurna base camp from Kathmandu both options flight or drive available. ABC trek start with the flight to Pokhara then drive to trekking starting point or driving to trek start point from Kathmandu via Pokhara. Pokhara is a lovely place to spend a couple of days before or after the trek. From Kathmandu, one can reach Pokhara either by bus or by a short flight.
Verdict Everest trek Vs Annapurna trek
Prior to deciding whether it is Everest base camp or Annapurna base camp, one has to go through the details of both treks. Those who undertake a trekking to the Himalayas want it to be an adventurous trip apart from the various other requirements. Hence, after consider all the aspects of Everest base camp Vs Annapurna base camp, we recommend Everest base camp as our final choice. Trekking is also a sight-seeing trip. The views of the majestic Himalayan Mountains make the trek to Everest base camp a memorable experience.
We are Everest trekking region specialist Adventure Company organize Everest base camp trek year round. We do provide you Annapurna base camp trek service also as an alternative trip when the flights are cancel to Lukla due to the bad weather. Mount Everest base camp trek Nepal  is highly recommended trek if you interested to book or need more information email us.