Mount Everest region best, easy and short treks Nepal
There are many treks in Mount Everest area some of them are really simple, short and easy as well. One of the well known short treks in Nepal Khumbu area is 7 days Mount Everest view trek. 10 days Everest view yeti trail as well as the 5 days Everest panorama trek also going popular day by day between tourists.
Itineraries of short Everest trekking trips are carefully designed to take you to the finest viewpoints that offer you breathtaking view of Mount Everest, Ama Dablam, Lhotse, Nuptse and other mountains. While you are flying to Lukla or Lukla to Kathmandu with small aircraft try to get the window seat to see the best views of the Himalayan range including Mt Everest.
There are many treks in Mount Everest and each one has its own beauty. If you are traveling with limited time and interested to see the world highest peak Mount Everest then check the best short treks in Nepal Khumbu.
Experience the Sherpa culture, highest national park and highest peak in the world the Mount Everest. We advise you to travel Everest region in flexible schedule. The weather of mountain region can change unexpectedly. It delays the flight for few hours to few days, at least 2 extra days require.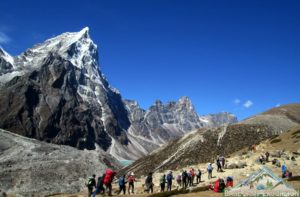 All short Nepal treks route of Everest start from Lukla. Check here's a list of the main trekking routes with the duration, highlights.
1: Mount Everest view trek 7 days
Everest view trek start with the scenic mountain flight from Kathmandu to Lukla. Highlights of Mount Everest view trek are views of the Ama dablam, Tengboche monastery, Mount Everest and Sherpa villages.
During hiking to Everest, traveler crosses of number of suspension bridges to reach Namche bazaar and Tengboche. Hiking up to the Mount Everest view hotel so that you can get glimpse of the Everest.
2: Everest view yeti trail 10 days
Another best short treks Nepal includes Everest view yeti trail it is the trek which needs maximum of 10 days including arrival and departure. It is the best trip in order to know about the cultural and spiritual aspects of the Everest trekking region. It is the small trek region which covers Lukla, Namche bazaar, Phakding, Thame and Kwongde. You can get the great panoramic view from the Namche and Kongde.
3: Everest panorama trek 5 days
On the list of best, easy and short treks Nepal it is important to keep the Everest panorama trek too. During Everest panorama trekking period you will embark the best Mount Everest view point. You can feel peace and silence in the highest mountain. You will get delicious food, hot shower, and other facilities with natural scenery of the mountains.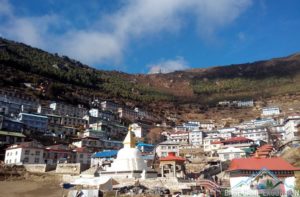 Best short treks Nepal
4: Gokyo valley trek 10 days
5: Everest base camp trek 7 days
6: Everest base camp trek 6 days
7: Everest base camp trek 5 days
8: Everest mini trek 4 days
9: Everest base camp trek 3 days
Mount Everest short trek on easy track and low elevation of Khumbu suitable for all levels of travelers. List of popular long and Short Everest Trek packages are for reference take pleasure with short Everest trekking in Nepal. Shortest trek to Everest base camp can complete within 10 days, Lukla to trequire good fitness level and stamina.
Recommended short Everest base camp trek is for all people is 12 to 13 days trip. Check optional Everest base camp short trek itineraries. We are here to fulfill your wish to see Everest offers different hiking trips to Everest region as per your duration and budget.
Everest short trek in Nepal will show you Everest and many impressive surrounding peaks of the Himalayas. If you interested to discover Everest trekking region write us we are happy to organize trip to Khumbu, Nepal.