Feature highlights of Everest base camp trek Kathmandu Nepal
Clear ideas about the highlights of Everest base camp trek before commencing help you to make this trip more enjoyable. In this way we are going to make you clear about Mount Everest base camp trip highlights in this post. Mainly there are two ways to visit Mount Everest either from Nepal by trekking or Tibet by driving. From the both sides major attractions spellbound you each and every steps.
Feature highlights of Everest base camp trek are Tenzing-Hillary airports, Namche bazaar, Tengboche monastery, Khumbu Glacier, Kalapatthar, South base camp of Mount Everest, Gokyo lakes, Ngozumpa glacier& gokyo ri in Sagarmatha national park are popular places to see in Nepal side. Tibetan Plateau, Lakes and its wonders in Qomolangma National Nature Preserve in Tibet of China are major highlights of Everest base camp trek & tours in north side.
In fact the visit to the Everest base camp would have been incomplete without visiting this place.
List of trip to Everest region Nepal are given below that are suitable to observe feature highlights of Everest base camp trekking in Nepal.
Everest base camp trek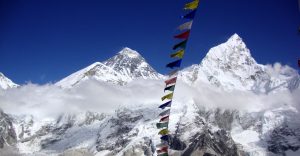 Mount Everest view trek
Gokyo lakes trek
Everest Cho la pass trek
Everest base camp trek via Jiri
Luxury Everest base camp trek
Everest three pass trek
Phaplu to Everest base camp trek
Gokyo to Renjo la pass trek
List of highlights of Everest base camp trek
#Topography
Sagarmatha National Park is famed as a natural heritage and highest national park of the world. There are three types of climate zone including sub-alpine zone, alpine zone, and forested temperate zone. Its elevation start from 2700 meters to Mount Everest 8848 meters the top of highest peak. It is mainly comprised of terrain and gorges. 69% of the park consists of barren lands, whilst 28% of the area is used for grazing purposes and only 3% is covered ith greens.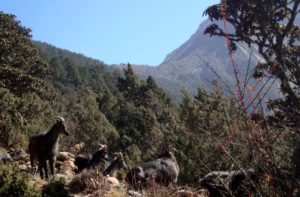 #Flora
Sagarmatha national park is a natural world heritage sites declared by UNESCO in this way it is best place to observe Natural wonders and Vegetation of Himalayas. Plants like blue pines, juniper, firs, birch, bamboo and rhododendron are found in lower part. Life of plants disappears from Lobuche with the altitude and gets confined to mosses and lichens. 5750 meters is the permanent snow line & no vegetation is found above this altitude.
#Fauna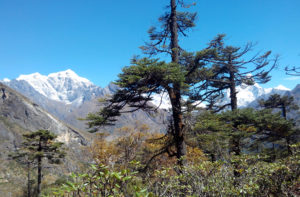 Verity of Himalayan wild life observation in highest national park in the world is another highlight of Everest base camp trek. This forest is home to a minimum of 118 different species of bird's namely red-billed chough, yellow-billed chough and Himalayan pheasant etc. It also provides shelter for some of the rarest mammal species of the world such as snow leopard, musk deer, Himalayan black bear and Red panda.
#World's highest glacier in Nepal
Source of Khumbu glacier is Mount Everest, the highest peak of the world. It is the world's highest glacier begins at the height of 8000 metres above the sea level in Nepal. Travelers get an opportunity to see the world's highest glacier during Everest base camp trek. After crossing the tree lines trekkers reach barren, arid terrain & glacier.
#Khumbu ice-fall
Astonishing views of Khumbu Ice fall from Everest base camp attract many travelers because it is most dangerous part to cross during Everest expedition.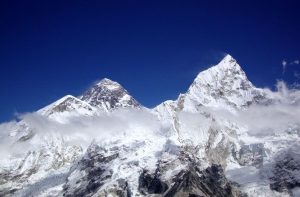 #Everest base camp south
Trekking in world famous trail to stand at the base camp of Mount Everest is the main targeted highlights of Everest trekking. It is highest walking trails in the world takes you very close to the World's highest mountain.
#Kalapatthar & other Everest view points
Grand vistas of Mount Everest from Hotel Everest view, Tengboche & Kalapatthar are the main attraction of EBC trek. Most of the tourist from around the planet visit to see the Mt. Everest to capture its nature beauty.
#Outdoor activities
The major highlights of Everest base camp trek are the experiencing the thrill of mountaineering and adventure outdoor activities like hiking, trekking climbing, Everest marathon, highest sky dividing village tours, yoga and meditation in lower elevation.
#Close up exploration of Sherpa culture and tradition of ethnic inhabitants
#Visit school & hospital in Khumjung established by Sir Edmund Hillary
#Mount Ama dablam most beautiful mountain of Everest trekking region
#Ancient Chortens, Mani walls & monasteries
#Yak caravans of Sherpa people
#Mani Rimdu Festival in Tengboche monastery
Observe the natural wonders and finding the ultimate truth of mountain life are main highlights of Everest base camp trek Kathmandu. If you interested to experience to Mount Everest base camp trekking in Nepal the Himalayas email us. We are happy to send you tailor quote that design according to your dream.