Food, drink and accommodation on the Everest base camp trek
The twelve days trek to the Everest base camp makes everyone wonders what food they will eat, what will they drink on Everest base camp trek and where are they sleep. The main reason to give it so much thought is because the trek involves some real rough areas. it is very important that you carry all the required resources either yourself or in the backpack of a strong Sherpa porter or a yak.
The food is pretty healthy and nourishing
Although one would expect that there isn't enough variety of food due to the absence of proper resources. But the food and drink up there can be pretty tasty and satisfying. if you know what to eat or what to drink for breakfast, lunch and dinner. Maintain Hygiene Food, drink and accommodation on the Everest base camp trek check below. Average budget is for meal breakfast, lunch, dinner and tea or coffee on Everest base camp trek in between $25 and $30 per day, per person.
Guided lodge to lodge/ hotel to hotel / tea houses to tea houses packages to Everest base camp trek in Himalayas, Nepal, Asia.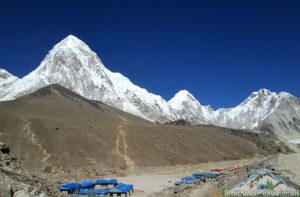 Everest base camp trek, 9 days, 10 days, 12 days, 14 days
Mount Everest view trek, 5 days, 7 days
Gokyo lakes trek
Everest Cho la pass trek
Everest base camp trek via Jiri
Luxury Everest base camp trek
Everest three pass trek
Ama Dablam base camp trek
Phaplu to Everest base camp trek
Gokyo to Renjo la pass trek
What food during Everest base camp trek should you consume?
Trekking is undoubtedly a very tiring job. It is hence important that you have eaten your food properly before you embark on the journey. It is ideal to have your breakfast at around 6:30 to 7:30 in the morning. If you late breakfast you miss the view during walking because morning weather is very clear to see the Everest panorama. It is important you take a lot of fluids. The food during Everest base camp trek should include the following:
Available drinks during Everest base camp trek
We are going to make clear your curiosity what kind of food, drinks and accommodation you will get during 12 days Everest trek. Tea, coffee fields with caffeine it loose the sleep and liquors are not good to drink in high altitude. Hot water, herbal tea and different fruit flavor hot juice are the best drinks on the way to Everest. When you are going up it is not good to drink wine, smoke, drink more tea and coffee and do not get involve in sexual intercourse also. When you back from Everest base camp it doesn't matter you can do, eat and drink whatever you like.
Available breakfast during Everest base camp trekking
Local tea houses of Everest region make different verity of delicious food and serve the travelers. Common food items for breakfast are porridge, pancakes, toast, chapati, muesli with hot milk, eggs, potatoes, juice, tea, coffee and hot chocolate etc. in some places they provide continental breakfast, American breakfast and special breakfast for trekkers as well. Breakfast verity depends on in which category tea house you are staying. If you book cheap package then diffidently you have to compromise in quality service. Medium category tea house provide best breakfast, lunch and dinner.
Lunch and dinner available on Everest base camp trail
The lunch and dinner are pretty standard food in the form of steamed noodles or simple rice and curry. For lunch and Dinner you can eat different vegetable food items like pizza, spring rolls, Noodels, hash brown, boiled and fried potatoes, spaghetti, fried rice, Dal bhat, MoMo, Macaroni or pasta etc.
After dinner you can get different verity of food for desert like apple pie, chocolate cake, fruit salad, rice pudding, chocolate pudding, custard pudding etc. when you book full board package then most of the trekking company provides tea, coffee, breakfast, lunch and dinner only not desert. Some company offer fruit salad after dinner as a desert and several provide tea, coffee as per your choice.
What not to eat while trekking in Everest base camp
Meat and other verity made from meat are not good to eat. We advise you to do not drink non purified water filling from the tap.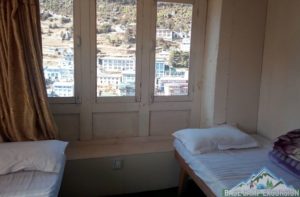 Accommodation in the Everest base camp trek
The accommodations during Everest base camp trek are trekking lodges, hotels, commonly known as a tea houses. They will provide you good bed, breakfast, lunch and dinner facility with smile.
Tea houses provide different hot beverage in thermos pots basic namely small, medium or large. All these tea pots consist of only one tea bag and a liter flask with boiling hot water. The quality of the tea you will get is not very good, and the taste is not like that of tea.
You only need to get to drink this tea because you need a hot beverage to help in the regulation of your body temperature. You can also have the usual bread butter and eggs for breakfast or maybe go with pancakes and muesli if you want a change in taste buds. Now you clear about Food, drink and accommodation on the Everest base camp trek. We organize full board Everest base camp trek and partial bed and breakfast, guide, porter, and permit arrangement service package also.
When you are traveling with us you stay healthy with good food during Everest base camp trek. We provide Food, drink and accommodation on the Everest base camp trek with quality trekking  service in best tea house channels safer and more enjoyable experience trekking to Everest base camp write us.