Guide for Renjo La pass elevation, map, difficulty and images
Renjo la pass elevation is 5345 meters, 17,536 feet above sea level. It is easier pass than other two passes of Everest region Cho la and Kongma La. Trekking trail is easy and wide, caravan of Yaks also can cross Renjo la pass. But it is still adventurous; difficulty level of this trek is fairly strenuous, painless to cross throw Gokyo valley.
If you would like to trek throw Thame village it is tough and long uphill walk.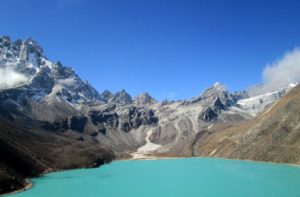 If you are planning to cross Renjo la no need to climb Gokyo Ri. Recommended to walk east to west direction to get the better and easy experience.
Everest base camp trek 
Gokyo lakes trek
Cho la pass trek
Everest three pass trek
Island peak climbing with EBC trek
Jiri to EBC trek via Gokyo lakes
Top of the Renjo la pass, Gokyo Lakes and Gokyo Ri are the highlights of Renjo la trek or Everest three pass trek offers fascinating view of high mountains Nepal. Exclusive journey throw less crowded route the Gokyo Renjo la pass trekking is a thrilling experience in Khumbu Himalayas. Renjola pass offers the bets views of several Himalayan peaks including the best sight of Makalu and Mount Everest.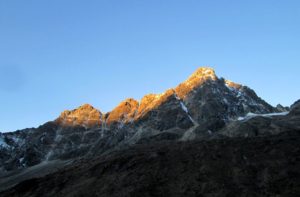 Those who undertake the journey through the Everest region via Renjo la can enjoy the amazing experience about the great Sherpa culture. They learn about the Sherpa lifestyle and taste their cuisine, religion, heritage and settlement of the ethnic villagers.
We have been operating Everest renjo la trek throughout the year with customize packages as per guest's request. To make your dream for Everest come pleasingly true, please contact us immediately. We are also open to answer your any queries on the matter.