Mount Everest base camp trek difficulty level and preparation
I trek to Everest base camp more than 25 times with the 73 years old seniors to 7 years of kids as a guide both make successful and enjoyable trip. Some time young people also cannot walk in the same trekking route. It is difficult to describe the exact Everest base camp difficulty level. It is moderate level of trek but difficulty levels depend on how you take this journey and preparation.
Physical fitness is more important than the trekking experience to handle the Mount Everest base camp trek difficulty level. Everest base camp trek preparation includes physical strengthening of the body, hiking practice and also developing cardio vascular tolerance. Since one has to reach up to an altitude of about 5360 meters intensive hiking practice is quite essential.
Physical preparation to tackle the Mount Everest base camp trek difficulty level by doing daily exercises. Gather all information, tips, advice and training plan for Everest base camp trek from destination expert before travel.
Everest base camp trek, 9 days, 10 days, 12 days, 14 days
Mount Everest view trek, 5 days, 7 days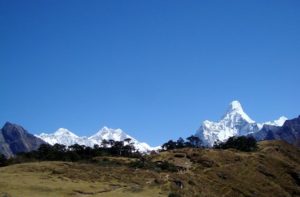 Gokyo lakes trek
Everest Cho la pass trek
Everest base camp trek via Jiri
Luxury Everest base camp trek
Everest three pass trek
Ama Dablam base camp trek
Phaplu to Everest base camp trek
Gokyo to Renjo la pass trek
Is it difficult trekking to Everest base camp or not?
The trekker must have the physical strength to trek to this altitude carrying the bag on their back. Everest base camp trek difficulty includes climbing steep hills as well as inclined slopes.Though Everest base camp trek is not a very long trek only the high altitude makes it a real challenge and adventure.
It is not possible to practice in advance trekking to an altitude equal to that of Mt Everest. Experienced and physically fit trekkers can easily manage the Everest base camp trek difficulty, novice trekkers can make it an exciting as well as enjoyable task if they take proper training prior to the trek.
How difficult is the Everest base camp trek
High altitude is the main challenge on the Everest base camp trek route. There are two other factors also affecting like unsure weather and extreme temperature. Strength training and cardiovascular training are essential to make this trek easy. Strong legs are very important for hiking; trekkers have to carry on their back the day packs when they go for the hiking in Nepal. Those who live in a place where trekking trails are there can carry out their Everest base camp trek preparation in a much better way. By doing real trek for some time or every day they can get trained for the trekking in Nepal.
Everest base camp trek difficulty level and preparation
Check the tips to preparing yourself for a trek to Everest base camp Nepal when you're all physically and mentally set-up, you should be good to go.
#Practice best cardio training for Everest base camp
# Do general fitness activities to improve your stamina
# Daily walks to increase our strength endurance
# Altitude training, physical and mental conditioning
One should learn about the symptoms and treatments of altitude sickness during the training period and it is all the more important to consult the physician before going for the trek. Thousands of tourists from around the world who have taken proper training and have a positive attitude can make the Everest base camp trekking a memorable experience of their lifetime.
We have 99.9% success rate on Everest base camp trek, if you interested to go to discover highest peak contact the region expert.