Sagarmatha National park permits and TIMS card for Everest base camp trip
Sagarmatha National park permits is an essential, If you are planning a visit to Khumbu region Nepal to explore Mount Everest than additional information regarding the Sagarmatha National park could be efficient for you. Sagarmatha National Park located in the Himalayan region of Nepal covering up an area of about 1148 sq km.
National park expanded from the elevation 2,845 m to 8,848 m above sea level. The Sagarmatha National Park was established in 1976. UNESCO declared this national park as a natural world heritage site in 1979.
Sagarmatha national park entry fee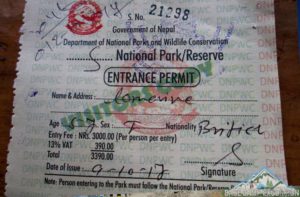 Entrance to a Sagarmatha National park requires a permit with certified permission of entering the park. Without national park permits, a person is legally not allowed to enter or even have a view of the park. National park entry fee given below.
You can issue the national park permit in Kathmandu (Department of National Parks and Wildlife Conservation at NTB building, Bhrikuti Mandap) or on the way to Everest base camp in Manjo village at Sagarmatha national park office.
Sagarmatha national park entry fee is not free for the adults, but yet you can get them for free when it turns to your child's matter below 10 years. #Sagarmatha National Park entry fee has been increased by 13% VAT new rate given below.
Entry fee for foreigners NRs: 3,390 per person per entry
Entry fee for SAARC NRs: 1,695 per person per entry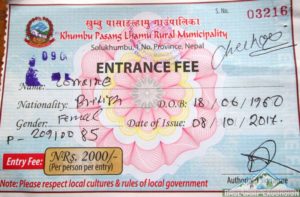 Khumbu Pasang Lhamu rural municipality entrance permit & fee
Khumbu Pasang Lhamu Rural Municipality (KPLRM permit) started to collect the tourism fee in Everest region from Travelers. Trekkers can obtain this entrance permit at Lukla easily showing their identity card. Our guide assist you to make all these require permits to make you easy travel experience.
Khumbu Pasang Lhamu rural municipality fee US$20 per person
TIMS card for Everest base camp trek is not require any more
Are you planning to visit Sagarmatha national park and searching agency to issue the TIMS; No worry, it is not necessary to obtain Trekkers' information management system (TIMS card) for Everest base camp trek any more. Any one can explore Mount Everest region with TIMS, Remember that instead of TIMS you have to have Khumbu Pasang Lhamu rural municipality entrance permit and National park permit to enter.
Everest region trekking routes that have need of Sagarmatha national park permit cost as below. All necessary permits for Everest base camp trekking and recently updated latest Sagarmatha national park entry fee.
Everest base camp trek, 9 days, 10 days, 12 days, 14 days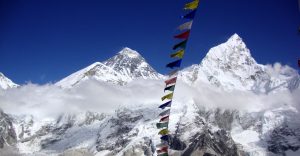 Mount Everest view trek, 5 days, 7 days
Gokyo lakes trek
Everest Cho la pass trek
Everest base camp trek via Jiri
Luxury Everest base camp trek
Everest three pass trek
Ama Dablam base camp trek
Phaplu to Everest base camp trek
Gokyo to Renjo la pass trek
Other permits require for Everest base camp trek
If you start Everest base camp trek via Jiri then you have to have another permit to go to the Everest trekking area. On the way to jiri to Everest base camp you cross the protected land Gaurishankar conservation area. In this way you have to have conservation area permit also. You can get Gaurishankar conservation area permit easily on the way to EBC.
Gaurishankar conservation area entry fee: US$ 20 per person per entry
Sagarmatha is the highest national park in the world it hosts the world highest peak Mount Everest. Its religious and cultural significance of this area attract many travelers in the Himalayas. Khumjung, Khunde, Namche Bazaar, Thame, Phortse, Pangboche, Dingboche, Pheriche and Tengboche are the main Sherpa villages inside the national park.
Given list of permits are not enough if you are going to summit any peak of Khumbu region. You have to obtain peak climbing permits also. Trekking company issued climbing permit to climb the peak from the Nepal mountaineering association and Nepal government tourism depart. Now you know what Sagarmatha National park permit cost and TIMS card for Everest base camp trek work for!
We are Everest trekking organizer from Kathmandu if you need any assistance to issue the permit, TIMS. If would like to book full board Everest base camp trek or guide, porter service trekking package write us. Let's go to visit Sagarmatha National park once in a life time to see the beauty of Mount Everest.