What is the lowest temperature ever recorded on Mount Everest?
When it comes to the highest mountain range in the world, there are lot of extreme facts regarding it. Know what is the lowest temperature ever recorded on Mount Everest? These facts pertain to its height, its location and the season that it is experiencing. Its weather is also very fascinating in the sense that it is unique and like none other. As such, here are some of the facts that you need to know about it.
How cold is mount Everest peak summit temperature
Conditions on Mt Everest depends on average temperature at the peak of the Everest (about -36° C / -33° F in winter and −19 °C / −2 °F in summer on the summit).
Must visit once in a life time at-least till Everest base camp south  Nepal to identify how low can the temperature get on Mount Everest its climate & weather, temperature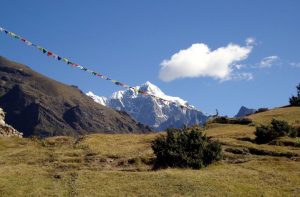 as well as the highest temperature ever recorded on Mount Everest in the Himalayas.

Plan a trip in spring the best season offers good climate & weather for climbing. All mountaineers try to climb Everest in May, read Mount Everest average temperature statistics.

Everest base camp trek
Mount Everest view trek
Gokyo lakes trek
Everest Cho la pass trek
Everest base camp trek via Jiri
Luxury Everest base camp trek
Everest three pass trek
Ama Dablam base camp trek
Phaplu to Everest base camp trek
Gokyo to Renjo la pass trek
What is the highest and lowest temperature at Mt Everest
So, what is the coldest month on Mount Everest out of all the seasons it goes through? In short, the answer is January. Out of all the months, this is the one that will send shivers down your spine all night long. Naturally, the climate here is very extreme in nature.
As such, the temperatures in the summit can reach as low as -40 degrees Celsius.
On an overall basis, the average temperature is around -36 degrees Celsius, which is also dead low to be perfectly clear.
During the warmest months such as July, the average temperature at the summit rises a bit and is around -19 degrees Celsius.
What's more, there is not a single time in the year when the temperature rises above the freezing temperature.
Lowest temperature ever recorded on Mount Everest
One of fascinating questions that people ask about this place is – What is the lowest temperature ever recorded on Mount Everest? The answer to that is freezing -42 degrees Celsius. Apparently, this took place in the month of December in the year of 2004.
Why does everyone try to climb Mount Everest in May
Now, there is a myth regarding this place which states that most people travel to the top during the month of May. It has a lot to do with the snow, wind conditions, temperature on Mount Everest in May and a lot of other things as well.
This is the most optimum time to visit when it comes to temperatures. Spring is the best season to climbing Mount Everest. All arrangements for climbing complete in April and early May. Sherpa Guides and climbers arrive to base camp till this time then make summit attempt. There is good weather in the month of May to climb in this way all try to scale highest peak on May.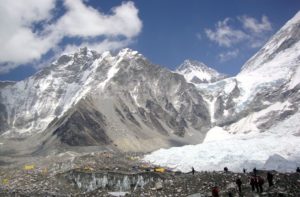 So that answers some of the myths regarding Mount Everest and the weather conditions in this area.
So the next time you pay a visit Everest as well, make sure you keep these in mind. Now you are clear about Mount Everest weather facts including what is the lowest temperature ever recorded on Mount Everest.
If you interested to discover this mysterious place once in a life time then write us. We organize Everest base camp trek as well as the Mount Everest expedition summit according to your desire and duration of Holidays.