Top 10 things to do in Nepal
Nepal is without question one of the best places for tourists to visit. After all, it has one of the most diverse collections of Mother Nature's works of art. Not only that, there is a lot for you to do as well other than natural sightseeing, best things to do in Nepal.
Here is the list of top 10 things to do in Nepal
1: Tours and Sightseeing in Nepal
As mentioned before, the first and foremost reasons why people like to visit Nepal are because of the beautiful scenery. Starting from Mount Everest to the Birth place of Buddha Monasteries and natural beauty, you will find it all in Nepal.
There is something for everyone's tastes which is why it makes for such a good location for tourism. Popular touristic activity to do in Nepal Kathmandu, Pokhara and Lumbini are sightseeing and tours. Travelers can observe and know about major tourist attractions of Nepal within few days sightseeing trip.
2: Trekking and hiking in the Himalayas
The Himalayas are an attraction for every tourist in the world. As such, they make sure that they visit this place at least once in their lifetime. Mount Everest is the pinnacle of optimism for every adventurer to Nepal. Everest base camp trek is one of the best activity to do in Nepal. Trekking journey to Nepal Himalayas makes wonderful memories for forever. Hiking in the Himalayan foot hills also attract many travelers from around the world.
List of top & best things to do Nepal at Everest region, Main tourist attractions are adventurous activities to do in Nepal Himalayas.
Everest base camp trek 
Mount Everest view trek 
Gokyo lakes trek
Everest Cho la pass trek
Everest base camp trek via Jiri
Luxury Everest base camp trek
Everest three pass trek
Ama Dablam base camp trek
Phaplu to Everest base camp trek
Gokyo to Renjo la pass trek
3: Climbing and expedition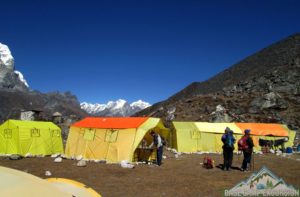 Nepal is the motherland of highest peaks. Out of 1,310 Himalayan peaks Nepal above 6000 meters 238 are opened for climbing. In this way no doubt Climbing and expedition are the best thing to do in Nepal.
Mount Everest is the highest mountain range in the world. Climbing the Mount Everest is a huge point of interest for anyone visiting the place. Mountain expeditions are extremely exciting and are capable of filling any adventurer with a rush of blood.
4: Jungle Safari
When it comes to jungle safaris in Nepal, the Chitwan National Park is without question the most well known safari spots Nepal. Bardia national park is a less crowded place to see Bangal tiger and dolphin. If you are not interested to tour through natural habitats of wild animals like tigers, rhino, elephants, deer etc, There are options boating, elephant safari, Tharu village cultural tours. You will get to see a lot of floral, bird's species in this area as well.
5: Mountain biking in Nepal
Nepal is one of the well known sports for mountain biking in Nepal. The rugged yet beautiful slopes in these mountains provide a good surface for all sorts of adventure sports. Mountain biking is without question the most popular one amongst all the others. While it has its own fair share of dangers, the thrill involved is something else. Uphill and downhill, on road and off road, single track day and multi day mountain biking trip are available on cheap and best price.
6: Rafting and Kayaking in Nepal
Nepal is filled with river bodies that are ideal for rafting purposes. Some of them include the Trisuli, the Sun Koshi, Bhote koshi and Karnali River and so on. The speed of the water flow in these rivers provides the ideal conditions for water rafting. Rivers of Nepal open for Rafting and Kayaking are many but most popular are Sun koshi, Bhote koshi, Trishuli, Kali Gandaki and Karnali. Fresh water river rafting and Kayaking are the popular and activity to do in Nepal.
7: Paragliding
There are other many paragliding spots in Nepal. Among of these Pokhara is famous for paragliding flight in Nepal. The cliffs and slopes in the hilly regions of Nepal also provide great height which is ideal for more adventure sports like paragliding. Unless you are afraid of heights, there is no reason to not try this out. If you would like to fly in the sky like a birds and with the birds, write us to know the how much is paragliding in Pokhara cost and book Paragliding tandem flight from Sarangko, Pokhara, Nepal.
8: Bungee Jumping
Bungee jumping Nepal is a highest places bungee jump and the longest free-falls in the world, about 160 meters high. Ultimate thrill of a bungee jump can now be experienced in Nepal stunning natural surrounding located near Tibetan border. The same height is also utilized for yet another kind of adventure sports. This comes in the form of bungee jumping. A must try for adventure lovers. There is another bungee jumping spot open in Pokhara you can enjoy it on your trip to Pokhara as well.
9: Mountain flight in Nepal
Everest express, mountain flights Nepal over Himalaya is an opportunity to explore the peaks, Langtang Lirung, Shisha Pangma, Dorje Lhakpa, Choba Bhamare , Phurbi Chyachu, Gauri Shankar, Melungtse, Numbur, Karyolung, Cho-Oyu, Gyachungkang, Pumori, Lhotse, Nuptse, Makalu and the highest peak of the planet Mt. Everest. Best time for Everest flights are March, April, October and November. This is basically the safest of all the adventures that you can experience in this area. It simply involves flying around the mountains of Nepal in a safe yet thrilling by plane.
10: Yoga and meditation in Nepal
While this is something that can be done pretty much everywhere, the mountain areas of Nepal provide a location for Yoga like no other. Not only is it literally a breath of fresh air for everyone, but it is also soothing and calming to the very core. Our yoga instructor who is mastered in holistic arts and practical yoga instruct you different yoga techniques on the natural open air places on the lap of the Himalayas.
The Himalayan foothills are perfect destination for yoga and meditation lovers' one of the best things to do at Nepal.
Now you are clear what are the top 10 things to do in Nepal? We are here is Nepal to organize different kinds trip as per your demand write us.