Mount Everest base camp trek in September holidays package
September is the beginning of popular season for trekking in autumn. It is obviously one of the best times to go to explore the Mount Everest base camp trek in September. There is least chance to rain in lower part of trail and little snow fall in upper part. If you prepared for rains and snow in the higher and lower regions respectively then it become life time experience.
You can see rain, snow fall, clear blue sky and splendor mountain panorama at the same time. EBC in September offers really quiet walking experience on trail and you can enjoy the peace and tranquility up there. Morning will be clear; cloud builds up around noon with rain spells during the afternoon into the evening. September could be a good time to trek.
Planning go for Everest base camp trek in September at the beginning of autumn season you are welcome to discover majestic mountains in the world. Gather the information about weather, climate and temperature before trekking to Everest base camp in September find local adventure company & expert guide.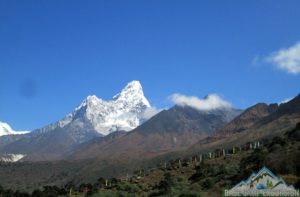 Everest base camp trek, 9 days, 10 days, 12 days, 14 days
Mount Everest view trek, 5 days, 7 days
Gokyo lakes trek
Everest Cho la pass trek
Everest base camp trek via Jiri
Luxury Everest base camp trek
Everest three pass trek
Ama Dablam base camp trek
Phaplu to Everest base camp trek
Gokyo to Renjo la pass trek
Mount Everest base camp weather in September
Traditionally you will find that these months will provide clearer views of the mountains, there is less heat haze, cloud and the better views of these world class mountains that can be spectacular. Early September is the ending part of monsoon you can see lots of greenery surrounding. The month of September is the end of monsoon in Nepal. Weather and climate is going clear on-wards the mid September can be a good time to go to avoid overcrowded lodges and huge queues for meals.
Everest base camp temperature in September
Average temperature of mountain areas above 3700 m is in September 15 degrees C to maximum 20 degrees C during sunny days. Morning, nigh and evening it goes down till -10 degrees C. If you start your trip in the Himalayas from the second week of September you will enjoy great mountain view including Mount Everest. You could do with heavy clothing at dawn and dusk but the weather during the middle of the day is usually hotter and you can comfortably get on the trek on lighter clothing.
The temperature during the night drops to below zero which actually calls for you to carry a change of warm clothing for these times. Tea houses provide clean and comfortable beds with blankets but It is better if you have good sleeping bag with you.
Wind speed in September
The wind speed at this time of the year is at a low of 4 kph. This is an indicator that you could do fine without fearing the possibility of strong and fast blowing speeds which could result in a change in the weather.
Sunshine touring the Everest base camp in September
The number of sunshine hours around this time of the year happens to be 7 hours which is quit suitable for trekkers since they can enjoy most of the time trekking in the clear weather, and can get a clearer view of the mountains.
Tips for Mount Everest base camp trek in September
We advise you to start trek early, it helps you to reach destination early. Beside that weather of morning always clear in the Himalayas clear. You will get the great view for sure. Everest region has much more to offer besides the glory and majesty of unparalleled mountaineering phenomena.
The cultural elegance blooming on the lap Everest region has remained unjustly unheard and untouched by the travelers and explorers from outer world. We organize Mount Everest base camp trek in September. If you feel any necessary changes to the itinerary and for any queries please do not hesitate to contact us. We are heartily open to assist you with the matter.
Weather and temperature at Everest base camp trek in September