High Mountain Everest base camp trek in April
You will be able to explore some of the best scenic beauty while having the Mount Everest base camp trek in April. The month is well placed between the beginning pre-monsoon period and the Monsoon season. The month of April is therefore a good month to settle on, if you didn't quite trust yourself to make Everest trek in the pre-monsoon period.
This is due to the fact that the temperatures begin stabilizing at a high and are gradually becoming more predictable. While having the tour, you will be able to see wonderful views of the mountains and at the same time you will come to know a plenty of things regarding Sherpa culture.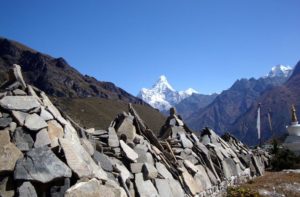 There are a number of facts that you should therefore consider right before making the move to tour the Everest base camp in this time of the year. Let's go for hiking to Everest base camp Nepal.
Professional guide show the way to Everest base camp trek; it is the best month of the year in spring season. Let's travel to Everest base camp in April where your dream to see Mount Everest comes true.

Everest base camp trek, 9 days, 10 days, 12 days, 14 days
Mount Everest view trek, 5 days, 7 days
Gokyo lakes trek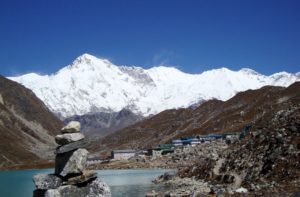 Everest Cho la pass trek
Everest base camp trek via Jiri
Luxury Everest base camp trek
Everest three pass trek
Ama Dablam base camp trek
Phaplu to Everest base camp trek
Gokyo to Renjo la pass trek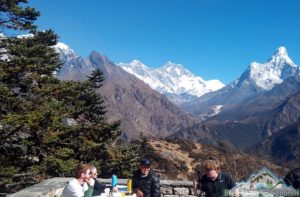 Trekking Everest base camp temperatures in April
The average minimum temperature at the Everest base camp trail in April is 17 degrees C and maximum of 25 degrees C during sunny days above 4000m. You can therefore enjoy the change of the scenery with the change in the weather from early morning to when the temperatures are hottest.
During the night, however, you are expected to face lower temperatures of up to -15 degrees C on the lower scale. This means that you underestimate the possible weather change and you should therefore brace yourself for both temperature extremes.
Wind speed in Everest base camp area in April
Wind speed could at times tend to make people feel cold, hence should be also considered. Fast flowing dry winds will cause you to shiver. The slow flowing feels will barely have any impact on you excessive cold. No worry basically wind state after 2 pm, trekkers reach destination around 1 pm. It is recommended to start trek early to save you from cold wind.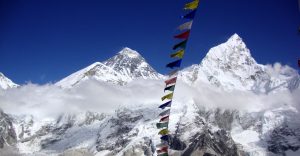 Traveling to Everest base camp check sunshine hours  
The month of April lets the trekkers enjoy 7 hours of sunshine on a daily basis. Sunshine is good for the clarity of the scenery as well as superior temperatures. You should therefore be able to take advantage of these sunshine hours to capture the best photos from Everest view point.
Tips for trekking Everest base camp in April
Remember to pack enough clothing for both temperature extremes the hot and the cold weather. April is the best times of the year to visit the Everest region, although because of this, it can become somewhat crowded. We organize EBC trek in April to provide you great opportunity to discover the scenery of high mountains of the world. If you are planning to visit Nepal for Everest base camp trek write us. We do provide cheap and luxury Everest base camp trek as per your requirement and budget.