Where is Nepal located on the world map
It's time to discover where is Nepal located in the world, fact information about independent landlocked country Nepal with location in Asia.Nepal is a scenic country to visit. Federal Democratic Republic of Nepal is situated in South Asia. Kathmandu is not only the largest city but also the capital of Nepal. The best part is that Nepal is on the lap of the Himalaya. The great chain of snow capped mountains including the highest peak in the world "Mount Everest" are the highlights of Nepal.
Touristic palaces, Natural resources, religious spots cultural diversity and wildlife sanctuaries are great value to discover Nepal. Main tourist attraction of Nepal is the Himalayas and world highest peak Mount Everest.
Where is Nepal located geographically?
Nepal is a landlocked country of the South Asia. This country is bordered by India in its East, west, and south side and in the north China is there. In total Nepal has an area of 147181 square kilometers. The highest place is Nepal will be Mount Everest, which is 8848 meter in height. The lowest part of Nepal in Terai (plain area) is 59 meters above sea level.
Who was the first king of Nepal?
Prithivi Narayan Shah is considered to be the first king of Nepal who started his kingdom in 1768 as per the Nepal history. Gyanendra is considered to be the last king of Nepal.
Is Nepal is a Hindu country?
Now Nepal is a secular state, before 2006 it was officially a Hindu state.
Is there democracy in Nepal?
Yes, Nepal officially the federal democratic republic country.
What is the capital of Nepal?
Kathmandu valley is the capital city of Nepal.
Let's go to discover where is Nepal located in the world map? Find the list of introductory packages to explore naturally Nepal an independent landlocked country of South Asia. Nepal holiday packages help to know about Nepal, facts, information and location of Nepal in world.
Everest base camp trek, 9 days, 10 days, 12 days, 14 days
Mount Everest view trek, 5 days, 7 days
Gokyo lakes trek
Everest Cho la pass trek
Everest base camp trek via Jiri
Luxury Everest base camp trek
Everest three pass trek
Ama Dablam base camp trek
Phaplu to Everest base camp trek
Gokyo to Renjo la pass trek
What is Nepal famous for?
Firstly Nepal is famous for its rich diversity and fantastic ambience. Nepal is known to be the second largest country for fresh water resources. The Himalayas are famous and fabulous. The rain shadow areas and cold desert make this one of the most pleasant and famous places for tourism. Highest peak Mount Everest, its base camp and the birth place of Buddha "Lumbini garden" are the highlighted features of Nepal.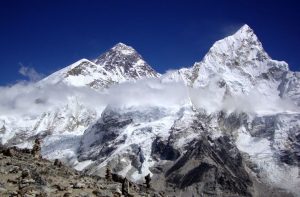 Nepal is famous for natural resources in the world. There are eight of the world's ten tallest mountains and so many other tourist attractions in Nepal. The natural beauty found on the lap of mountains is really worth watching.
Being a mountainous country there are many Himalayan peaks in Nepal beyond the snowline. If you want to see the beauty of snow on the mountains Nepal is one of the best place to visit. Nepal is one of the best place to visit it will be a wonderful place on the lap of nature.
Now you are clear about the location of Nepal visit once to discover its nature and cultural diversity. We are local tour operator Nepal organize Nepal trekking tours in Himalayas. If you interested visit Everest base camp trek and destinations in Nepal write us.
Where is Nepal located on the world map