Mt Everest base camp trek in June with weather & climate
Mount Everest is the tallest mountain in the world that stands at 8848 meters. it attracts people from all over the world to discover. Everest base camp trek in June month in the mysterious mountains of Everest is exquisite as the weather is fantastic and it is not very cold. It is a little cold at night, but it endows with life challenging experience.
The ideal seasons for trekking in the Mount Everest are spring and autumn. But the month of June is not bad there are not many tourists on trail. It is the beginning of monsoon in this way going to discover the Mount Everest base camp trek in July offers an unique experience. Check Everest base camp weather forecast before go.
Global warming change the climate of Himalayas thus Monsoon start little late compare to before. Trekking in Nepal to explore EBC in June is all right. The month of June is fine but advise you to start trek early to avoid rain and bad weather after noon.

Everest base camp trek, 9 days, 10 days, 12 days, 14 days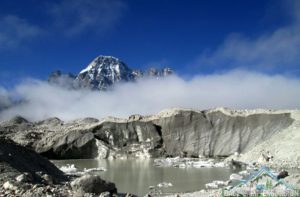 Mount Everest view trek, 5 days, 7 days
Gokyo lakes trek
Everest Cho la pass trek
Everest base camp trek via Jiri
Luxury Everest base camp trek
Everest three pass trek
Ama Dablam base camp trek
Phaplu to Everest base camp trek
Gokyo to Renjo la pass trek
Weather and climate during Everest base camp trek in June
The main advantages that can be gained by going to Mt. Everest base camp is an opportunity to see some of the best sceneries. You can even reach the base camp trek through trail and which is located along Sherpa villages, Khumbu glacier and Kala Patthar. It is a lot warmer than other parts of the year and the flowers are out in full bloom which is really very beautiful. Everest base camp trek affected by monsoon weather, some time it start early may and sometime early June but average monsoon starting date is about June 15.
Everest base camp temperature in June
A trip to Mount Everest a well-liked trekking destination is very thrilling. it is an evidence of the aspiration of mankind for adventure, challenges and for excitement. The average temperature in monsoon season is in between 17 degrees C to 25 degrees C during sunny days. Morning and night time it drop up to -15 degrees C. Everest region venture difficulty level is moderate.
It provides a highly rewarding experience that cannot be forgotten. Amazing Everest base camp trek can be done in June too but it is not like the months of March, April, May and October to November. You cannot see the views like in autumn or spring but worth to visit many possibilities to see high mountains including Everest from the different viewpoints.
Tips for Everest base camp trek in June
The Everest base camp weather in June is relatively less cold, and trekkers can get even to see wildflowers on regions of lower altitudes. Trekking in Mount Everest provides a pleasant experience of the glaciers, mountains, passes as well as the panoramic vision of the Himalayan ranges. It is important to carry rain coat and other right trekking gears because June is the beginning of Monsoon in Nepal.
We are Everest trekking tour operator Nepal organize Everest region walking trips like Everest base camp trek, Gokyo valley trek, Everest view trek, Everest high pass trek and Gokyo to Everest base camp trek via Cho la pass etc. write us to get the private or group joining trip quote to travel Everest base camp area with destination expert local guide Nepal.