Everest base camp trek in May for adventure tourism Nepal
The Everest base camp trek cover of 14 days adventure trip to explore of the scenic beauty of Mount Everest. You can to complete EBC trek in less time and visit the most ancient monasteries during Everest base camp walking tour also. Kala Patthar hiking and Everest base camp exploration are the major attraction of Everest base camp trek in May. The month of May is the ending of peak spring season. It is best time to meet the Everest climbers on the way to Everest base camp trek.
Hiking to Everest base camp in May provide an opportunity to get together with mountaineer at Everest base camp south side Nepal. Warm temperature, superior weather and climate make it lifetime adventure trip to Everest base camp trek in May.
Everest base camp trek, 9 days, 10 days, 12 days, 14 days
Mount Everest view trek, 5 days, 7 days
Gokyo lakes trek
Everest Cho la pass trek
Everest base camp trek via Jiri
Luxury Everest base camp trek
Everest three pass trek
Ama Dablam base camp trek
Phaplu to Everest base camp trek
Gokyo to Renjo la pass trek
Weather and climate during Everest base camp trip in May
The early and Mid-May period presents the pleasant weather. Early may is specifically the best time for trekking, with the temperatures being at all high. After May Monsoon season comes with heavy rains accompanied by mist and cold. If visiting in late May, you could consider carrying rain coats for the drastic weather changes may occur.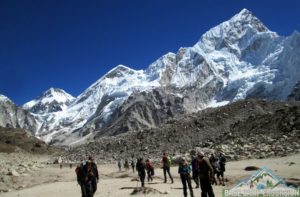 Average Everest base camp temperature in May
The sunny daytime temperature around this month of the year is at 15 degree C to 22 degree C. It is quite suitable for even your children to join you during this period without qualms of succumbing to any form of nasty weather. You could comfortably do with only light clothing all day while at the Everest base camp you need some warm clothes.
The night and morning time temperature go to the lowest of -12 degree C which is actually hotter than some of the daytime temperatures in the base camp at other times of the year. This means that you will need not stress over carrying excessive luggage due to very heavy and warm clothing for the night time.
Wind Speed at Everest base camp in May
The wind speed happens to be extremely favorable for those who totally dread the cold that arises from dry winds blowing very fast. The average wind speed recorded during this month is 4 kph or 6 mph which rather low to cause any kind of cold feeling on your skin. Classic Everest trek is a great opportunity, you can click enormous photos of the serene forests, mountain as well as glacial moraines.
Sunshine hours in Khumbu on May
This period will see you enjoy a period of 7 hours of sunshine daily which are accompanied by the quality weather to your advantage. It is important that you have to carry warm clothes and best sleeping bag if the weather suddenly decides to go nasty.
Now you are clear about Tourism to Everest in May. Let's go to visit Sherpa villages, EBC, Kala Patthar and view point for awesome views of Mt. Everest tower above you. We arrange trip to Everest year round, if you interested to visit write us to get the quote.