Namche bazaar travel facts to visit Namche bazaar hotels & weather guide
Namche Bazaar is the capital of the Khumbu region of Nepal. It is a great place for tourist attraction and a popular stop off point for mountain climber and trekkers preparing for Mount Everest camp trek. This village is situated on semi-circle shaped slopes of the mountain that present mind-blowing scenes of the mountains across the valley. Let us know more about Sherpa village.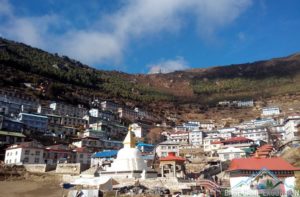 Where is Namche bazaar located
Namche Bazaar is located at 3,440 meters above sea level in the Khumbu region, populating both the sides of the hill. Most of the Sherpa working in the tourism industry are from this village.
Namche bazaar is the primary hub and trading center with several Nepalese officials, post offices, banks, army and police stations. This place is considered to be costliest place in Nepal and approximately three times as costly as Kathmandu, the capital of Nepal.
Lukla to Namche bazaar and Phakding to Namche distance
When you back from Everest trek you can make Namche to Lukla in one day. It is not recommended hiking from Lukla to Namche Bazaar in the beginning of trek it is risky.
How high is Namche Bazaar altitude?
Namche bazaar altitude  is 11,286 feet, 3440 meters above sea level.
List of trekking packages in Everest region via Namche
Everest base camp trek                                   Mount Everest view trek
Gokyo lakes trek                                               Everest three pass trek
Cho la pass trek                                                Luxury Everest panorama trek
Everest base camp trek via Jiri                   Luxury Everest base camp trek
Ama Dablam base camp trek                        Renjo la pass trek
Everest Sherpa village trek                          Everest view Yeti trail
Mani rimdu festival trek                               Phaplu to Everest base camp trek
Island peak climbing with EBC trek
Namche bazaar travel facts
With a large number of visitors visiting this village every year, Namche has greatly prospered from the revenue generated from the tourism industry. As per the government statistics, Namche Bazaar has been the wealthiest village in Nepal which accounts to seven times the average national income and two times the income of Kathmandu.
At Namche village, you would find various official firms that offer facilities to change currency. It is the only place in Khumbu region where this service is offered to visitors. The exchange rate in Namche is very low as compared to Kathmandu. It is advisable to utilize this facility only if there is no other alternative left or for changing the trivial sum of money.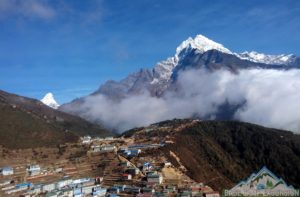 Hotels in Namche bazaar travel guide weather & climate
Winters in this village are dry and cold, while summers are quite warm with persistent mist due to which visitors often loses the enchanting views of the mountain peaks.
If you are going to visit this place, then the ideal time would be from September to November and March to May when the climate is pleasantly cold. This is the best time to relish the clear views of the mountain scenery.
Tourists attractions in Namche
You can find a fabulous range of hotels, exemplary Sagarmatha National Park, a museum of Sherpa Life and medicinal plants, Namche Monastery, Chortens and Stupas, several cafes, pubs, book shops, and numerous stores.
Importance of Namche Bazaar facts
Namche Bazaar is a village which is one of the most popular stoppages on the way to Everest. It is the popular choice for trekkers in the Everest region due to being the gateway to the high Himalayan range. To make special arrangements for the comfortable stay of visitors, this town provides various lodgings, cafes, and stores to take the best care of the needs of the visitors from all parts of the world.
On weekend mornings you would find a weekly market that runs in the center of the village. Here people sell clothing and goods at a cheap price. We are local tour organizer, travel agency Nepal. if you interested to discover the beauty of Khumbu region or would like to visit Mount Everest base camp write us.