Mount Everest base camp trek photos collection gallery
Life time Journey to Mount Everest base camp in photos captured during trekking period and make Everest photo gallery for all. Sagarmatha National Park is one of the picturesque places in the world. UNESCO declared this park as a one of the natural heritage site. Everest base camp photographic journey is an opportunity for trekkers to take the photo of beautiful scenery and enjoy astounding views of the mountain.
The opportunity is to get glimpse of highest peak of the world in Himalaya. Mount Everest climbing routes and picture of Everest base camp trail are appealing when you show your friend they also make a plan for future to explore Khumbu region. Professional photographers make money after selling the beautiful pictures Everest region also.
Stunning Everest base camp trek photos inspire you to discover incredible landscape and nature of Himalayas. Find grand photo story on our Mount Everest base camp trek photo gallery.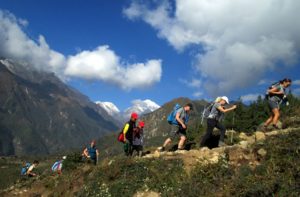 Everest base camp trek, 9 days, 10 days, 12 days, 14 days
Mount Everest view trek, 5 days, 7 days
Gokyo lakes trek
Everest Cho la pass trek
Everest base camp trek via Jiri
Luxury Everest base camp trek
Everest three pass trek
Ama Dablam base camp trek
Phaplu to Everest base camp trek
Gokyo to Renjo la pass trek
Sagarmatha is the world highest places national park also. It host highest peak of the planet the Mount Everest. Everest base camp trek is a world famous walking trail also is in this national park. Sagarmatha National Park photos give an inspiration and curiosity to explore this site. In this Khumbu region photo gallery we are going to show you some images of this area.
Mount Everest base camp trek is moderate trip most of the trekkers reach the old base camp of Mount Everest. Given pictures of Everest base camp collected during Jiri to Everest base camp trek that reflect highlighted features of Everest hiking trip including Kala Patthar. Above the Namche bazaar near the Everest view hotel travelers get the outstanding view Everest panorama.
Mount Everest is the world's most awe-inspiring sights that make an Everest base camp trek memorable forever. Everest base camp trek photo gallery created as a reference views for new trekkers. See given images of Everest base camp route and Kalapatthar then imagine once. If you will be there you will see the Natural wonders and capture photographs better than this gallery.
Go for adventure tours to Khumbu Himalayas to discover its natural beauty and hidden valleys. Start a photographic journey to Everest base camp Nepal today. We are here to organize the trip to Khumbu region as per your desire and duration of holidays write us.
Mount Everest base camp trek photos
Save