Outfitter Nepal Everest base camp trek in December
Some people think December is not a suitable month for trekking in Nepal Mount Everest base camp area. In fact, some will feel intimidated to visit the Everest region since they a perception that the area is bitterly cold or even hazardous. However, many trekkers who visited the Everest base camp in the month of December; they have submitted positive feedback's on why this month is one of the best seasons to trek at the Khumbu region.
Here are some of the reasons which make the month of December a perfect month for trekking at the Nepal Everest base camp the Himalayas. Usually days are surprisingly warm but the month of December is the beginning of winter season. You fell increasing cold day by day morning and evening chilly cold. We advice all travelers to select and bring right gears to make warm for the period of the Everest base camp trek in December.
The Weather, climate and temperature of December are really wonderful to similar to the November because of the global warming effects. It is recommended time to walk around the Mount Everest. Snow fall starts from beginning of January but advisable to carry enough warm clothes to visit Everest base camp.
Everest base camp trek, 9 days, 10 days, 12 days, 14 days
Mount Everest view trek, 5 days, 7 days
Gokyo lakes trek
Everest Cho la pass trek
Everest base camp trek via Jiri
Luxury Everest base camp trek
Everest three pass trek
Ama Dablam base camp trek
Phaplu to Everest base camp trek
Gokyo to Renjo la pass trek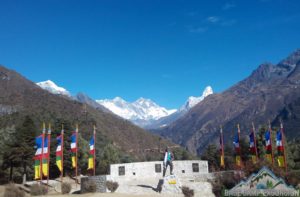 Weather and climate during Everest base camp trek in December
Facts are that the Everest region winter season runs from December to March. Weather reports from this region have noted temperatures as low as – 10 degrees Celsius in December. However, average temperatures are minimum 15 degrees Celsius to maximum temp of 20 degrees Celsius during sunny days.
Tolerable for trekking than many people would expect. In the case of lower night temperatures, then down coats or winter rated down sleeping bag would be perfect solutions to keep the cold away.
Experience the Mount Everest base camp trek in Dec
Everest trekking tours in December are one of the best experiences since the skies are crystal clear and thus the visibility is quite good. Unlike summer where the visibility of Mt. Everest is hindered by dense clouds interference, winter cold brings a very dry air that enhances visibility.
Therefore, it is in the month of December that one will get the best Everest view of the reputed Everest Mountain. Due to better clarity, landscape photography at the Everest base camp can be perfectly achieved in this season. Early December is an excellent time to trek to EBC; you can trek in lower area till Everest view point above Namche bazaar year round. Snow fall starts from the second week of December till the end of February.
Tips for Everest base camp trek in December
Another advantage of engaging in Everest base camp trekking is less crowds. Congestion is minimal in the month of December since many tourists fear freezing winter temperatures. Less crowds also mean less costs charged for trekking as the prices rise with the increase number of people. Therefore, Mount Everest trekking in December is less costly compared to the summer season. Till the third week of December you cannot feel very cold because of the global warming every natural process of Himalayas going late.
For those who would wish to trek at Mount Everest base camp Nepal, then December would be a perfect month to engage in the activity. Trekking in December will be one of the most perfect experiences as one will have a chance to enjoy a magnificent view of Mt. Everest. We are Mount Everest specialization Outfitter Nepal; organize Mount Everest base camp trek in December. For further details and customization of package, please mail us. We will be extremely delighted to respond to your mails in all the possible ways.