Is it the right season to go for trip to Everest base camp trek in July
The monsoon season in Nepal starts from June and stop in September. It is not the best time for trekkers to go for the Everest base camp trek in July. The view of the summit can also not be seen by the travelers during these months.
It is not worth spending so much money for EBC trek as trekkers cannot witness the scenic views. Cloud move around the mountain most of the time but it is good time to observe the Himalayan flora and fauna. If you are nature lover and interested to discover verities of alpine flora you must go to EBC trek in July. There are botanist and researchers trek to Everest region in this month.
In the middle of monsoon season walking trail become muddy by rainfall which makes trip less exciting. It is possible to do Everest trek in July to observe blossoming alpine plants. Travel to Everest base camp in July on less crowded tea houses and hiking trails write us to get the off season package quotation.
Everest base camp trek, 9 days, 10 days, 12 days, 14 days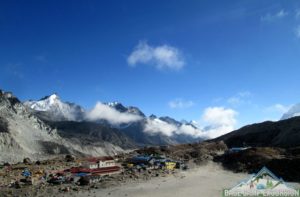 Mount Everest view trek, 5 days, 7 days
Gokyo lakes trek
Everest Cho la pass trek
Everest base camp trek via Jiri
Luxury Everest base camp trek
Everest three pass trek
Ama Dablam base camp trek
Phaplu to Everest base camp trek
Gokyo to Renjo la pass trek
Weather and climate during Everest base camp trek in July
The Everest base camp weather and climate in July is not easy to predict, rain, snow fall, cloudy and some time crystal clear for few minutes. There is less rain in high altitude you don't have to worry about safety measure above Lukla. It is safe to travel during the rainy season also.
If you starting from jiri to Everest base camp or Phaplu to Everest base camp then you have to careful about flash floods or mudslides. The trekking path also gets blocked at times due to the rock slides.
There are only few flights operates from Kathmandu to Lukla early in the morning. During monsoon flights can delay due to clouds we suggest you to manage extra days in case of flight issues.
Everest base camp temperature in July
Average maximum temperature during monsoon season is 25 degrees C in sunny days. Average minimum temperature is ranging between -15 degrees C in the morning and night above 3800 meters. The rain and clouds deep murk the peaks and it is definitely not the right time to see the beautiful Himalayan panorama. Mainly heavy rain falls in lower altitude but high elevation there are not much rain; you can see the cloudy mountain range during trekking period.
Possibility of Everest base camp trekking in July
If you want to go for trek in July we are here to organize your private trip to Himalayas. It is possible to trek to EBC in July if you manage the proper gears for trip. It would be more adventurous fun best time to observe the mountain bio diversity. You can see many flowers, wildlife and greenery of hills without any crowed and disturb.
July is in off season in this way company offers special discount that helps you to save money too. Rainfall, muddy trail, attacks of leeches and obstructed Mountain view make Everest base camp trekking in July less exciting but best to discover Everest region bio diversity.
Tips for Everest base camp temperature in July
Every year thousands of trekkers visit this destination with the desire to explore highest peak of the world. It provides a feeling of achievement as well as pride, and that cannot be matched with any other adventure in the world.
We are local trekking company Nepal organizing budget to Luxury Everest base camp trek year round since 2001. If you interested Mount Everest tours write us to get the experience guide in competitive price with off season special discount.