Mount Everest base camp trek in August
Everest base camp is a dream destination for most trekkers and backpackers all around the world. You may have had a long time dream of trekking at the vicinity or even summit the Mount Everest. Then if that so and your vacations is in the month of August, then you should consider taking a trek at the Everest base camp trek in August.
One of the reasons on why you one should embark on trekking in August is because the trekking trails and tea-houses are less crowded. Also the greenery of the valleys and hills are at their best especially on the lower altitudes. EBC in August offer occasional mountain views and amazing scenery, morning weather always clear.
Average temperature, weather & climate throughout trek in august are good enough to see the sights. While hiking in the end of monsoon above Namche Bazaar offers gorgeous scenery experience with guide.
Everest base camp trek, 9 days, 10 days, 12 days, 14 days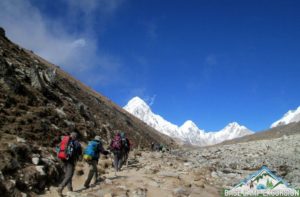 Mount Everest view trek, 5 days, 7 days
Gokyo lakes trek
Everest Cho la pass trek
Everest base camp trek via Jiri
Luxury Everest base camp trek
Everest three pass trek
Ama Dablam base camp trek
Phaplu to Everest base camp trek
Gokyo to Renjo la pass trek
Weather and climate during Everest base camp trek in August
Frequently changing weather of monsoon season makes really unique experience. Some time mountain ranges hidden in the cloud some time it appears clearly. Everest base camp average temperature in August is minimum -15 degrees Celsius and maximum 25 degrees Celsius above 3800 meters. June to September is the monsoon season in Nepal so August isn't the ideal time to visit. it rain every day, but not all the time. August is the best months to discover green hill and high mountains but good wet weather gear is important.
Experience the Mount Everest base camp trek in August
Of course you have to expect rainfall at the Mt. Everest region during the month of August. The season during this period (June to September) is referred to as the Monsoon. While in the trekking trails, one will experience rainfall for a couple of hours though it may not be incessant. Rainfall may make the trekking route muddy but the advantage is that the rainfall amounts will decrease with altitude increase. This may make it easy for you to trek up the mountain. However, one should be careful to avoid attacks of leech below Namche bazaar if you starting EBC trek from Jiri.
Another issue is that may trouble trekkers in the monsoon season is an obstructed view of the mountain. This can be especially frustrating for the trekkers whose sole purpose is to cherish the beauty of the Himalayas. The bad weather may also contribute to frequent cancellation or even the delay of flights. But no worry weather changes frequently you can see really amazing mountain views with greenery. If you arrange few extra days to make life time trip.
Tips to go Everest base camp trek in August
Trekking in summer is not so bad to discover EBC in August.  The bottom line is Everest base camp trek in August can also be enjoyable. You just need to make adequate preparations on the trip. For instance, make sure that you set aside days for contingencies in case of a flight delay caused by bad weather. Also, for easy trekking, pack waterproof jackets and boots.
You should also not to forget to carry with you some medicine as a means of safety against water contamination. Therefore, make your Mt. Everest trip aspiration come true in the month of August through a trek at the Everest base camp. We are Solukhumbu specialize adventure company Nepal organize trekking to base camp in August. If you interested to explore Mount Everest base camp trek in August let us to know, we are happy to make you happier.
Weather & Temperature at Everest base camp trekking in August