Everything: what to know about Everest base camp trek history
Mount Everest situated at Mahalangur in Himalayas close to the border between Nepal and China. Most of Nepalese call it by the name of "Sagarmatha". The name "Everest" was attributed after the name of famous surveyor Sir George Everest.
This mountain is said to be one of the most prominent and tallest mountains in the world with a massive height of about 29035 feet above the sea level. Destination expert going to share all information you need to know Everest base camp trek history in this post as listed below.
History of Everest base camp trek
1: First successful summit of Mount Everest made by Hillary and Tenzing in 29, May, 1953.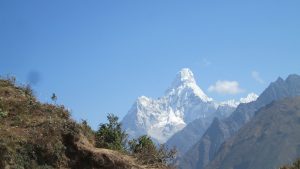 2: Mount Everest base camp trek become famous after first Everest summit made in 1953.
3: Mount Everest located at the edge of Nepal and China in south Asia at Sagarmatha national park.
4: The highest elevation that trekkers reach during Everest base camp trek is 5364 meters/ 17598 feet.
5: Notable landmark Kala Patthar situated at an elevation 5545 meters/ 18192 feet is one of the best Everest view point of Himalayas.
6: The height of Mount Everest is 8,848 meters / 29,029 ft.
7: World's most extreme Lukla airport is the main gateway to Everest trekking region.
8: Another important Everest base camp trek history about Sagarmatha national park is a natural heritage sites of Nepal declared by UNESCO, it helps to promote mountain tourism all over the world.
9: Mountains seen during EBC journey are Numbur, Kusum Kanguru, Thamserku, Sundar peak, Kongde ri, Kangtega, Tabuche peak, Cholatse peak, Ama dablam, Makalu, Island peak, Lhotse, Labuche, Pumo ri, Nuptse, Mount Everest etc.
10: Tea houses / lodges facility available in this route that helps to increase the numbers of visitors to make history of everest base camp trek.
11: Local lodges provides both local and western food for tourist on choice.
12: Mount Ama dablam is the most beautiful mountain that you see during Everest trekking in Nepal.
13: Mount Everest is not visible from the south base camp of highest peak.
14: Generally it takes 11 days to complete Everest base camp trek but helicopter make it possible to complete within 3 hours from Kathmandu.
15: More than 35 thousand trekkers visit Everest base camp each year to convert their lifetime dream into the reality.
16: The months of Spring and Autumn are the best time to go for Everest base camp trek in Nepal.
17: Trekkers be able to meet the Everest summiters at base camp on the month of May.
18: The two base camps of Mount Everest located exactly in the opposite directions, i.e. EBC north in Tibet and EBC south in Nepal.
19: Everest base camp is in bucket list of many adventure lover, as the destination of dream to reach once in a lifetime.
20: Remarkable view of Mount Everest, Khumbu Ice fall & glacier, Sherpa people, culture, and lifestyle in the Himalayas are the highlights of this trek.
One of the main features of Everest trekking is its varied hiking routes and this region has many amazing flora and fauna which would capture your attention. Mount Everest trekking has to offer thousands of flowering plants species, hundreds of bird species, and many species of mammals. Beautiful views of Amadablam, Lhotse and Everest would offer lifelong memories to you.
I think this post provide you some information about Everest base camp trek history. If you know more than this information about Everest base camp trek history, maintain in comment box. If you would lie to discover Mount Everest base camp Nepal email us to get the package detail.