Come let's see can helicopters fly to the top of Mount Everest!
Since the eras, it has been a common question by most of the people that how can helicopters fly to the top of Mount Everest? Though this question looks quite problematic to you but while you are finding their answers, it might look quite happening to you. So now let's explore what exactly happens when a helicopter fly's at the top of Mount Everest. Even today some people are unaware of the fact that helicopters in a true sense could fly at the top of Mount Everest! If you are one out of those crowd then come here is the best way to narrate you through the best way!
Can you take a helicopter to the top of Mount Everest?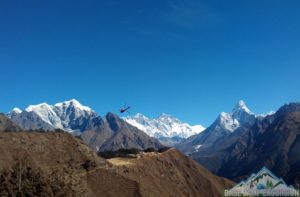 If you are asking this question that how Can you fly a helicopter to the top of Mount Everest? Then simply the answer is yes, you can take a helicopter to the top. But now the question arises that how to do that? This could be done but by following some limitations. These genuinely include:
Some of the helicopters are designed just to be a limit of 10000 feet's high. Thus to see how high do helicopters usually fly you need to watch out the height limit before you start up.
Rotors should be capable enough to help helicopters lift upwards with heavy weights. This is important as the air above gets thinner.
Also, the air compression are quite higher to the top of Mount Everest thus an air pressure of 1/3rd is required for easy lifting.
Thus following all such steps would make it easier for you to climb easily via helicopters.
Nepal Helicopter to Everest base camp tour price from Kathmandu or helicopter ride to Mount Everest trip as well as other Everest region trekking packages.
Everest base camp trek
Mount Everest view trek
Gokyo lakes trek
Everest Cho la pass trek
Everest base camp trek via Jiri
Luxury Everest base camp trek
Phaplu to Everest base camp trek
Why helicopters haven't evacuated everyone from Mount Everest yet
It had been quite difficult to evacuate people from the top via helicopters. This has been tough just for the blockage of areas. But in spite of such trouble, yet the first helicopter landed over the Everest in the year 2005 helping to rescue a wide group of mountaineers. Various factors like air pressure, temperature etc. have been a problem in their way of evacuating people from Everest.
How high a helicopter can fly?
Capacity and the flaying height of helicopters depend on engine ability. Helicopters with turbine engine can fly around 25,000 feet high.
First experience: can a helicopter fly to the top of Everest
The first helicopter landing on Everest summit though has overcome the entire issues but yet has failed in filling up some points due to the height of Everest. Thus its take off has been recorded to be the best and the highest ever grabbed. Thus helicopter rides to the top of Mount Everest have been quite fascinating and excitement.
We are adventure tour operator of Nepal organize sightseeing around Mount Everest by helicopter. Beside that we have Everest base camp day tours by helicopter every day. If you would like to discover Mount Everest by helicopter write us to get the quote.
Mount Everest base camp tour by helicopter
History: Helicopter ride to the top of Everest