Cheap and best budget Everest base camp trek to Himalayas
Everest base camp trek is one of the most popular trekking experiences because of the rich combination of beautiful nature and wonderful culture. There are verities of options available for Everest base camp excursion according to your budget like Luxury and budget. Here are some of the major factors that can make an Everest base camp trek cheap and a better experience.
Accommodation stander, experience guide, porter and food that you are eating along trek are major factors. Luxury lodge price start from US$150 but budget tea house accommodation cost US$ 3 to 15 per night. Independent trekking to save money is not recommended it is risky. To get the cheap and best Everest base camp trek ,we helps you to assist you according to your plan and budget drop an email.
Best Everest base camp trek company offers Mount Everest base camp on a budget really cheap and best go well with backpacker's daily budget.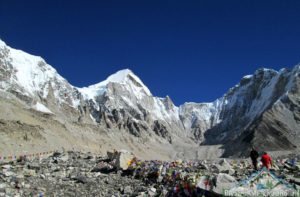 Everest base camp trek, 9 days, 10 days, 12 days, 14 days
Mount Everest view trek, 5 days, 7 days
Gokyo lakes trek
Everest Cho la pass trek
Everest base camp trek via Jiri
Luxury Everest base camp trek
Everest three pass trek
Ama Dablam base camp trek
Phaplu to Everest base camp trek
Gokyo to Renjo la pass trek
There are many terrible stories of independent trekkers in Everest trekking region. They walk alone to minimize the trip cost. Individual trekkers trek to Everest base camp without eating breakfast and tea coffee in such cold places they eat Lunch and dinner only. They always eat dal bhat because if you order one Dalbhat then you can get how much you can eat; you don't have to pay extra. They eat three times more than Nepali, guide and porter.
Everest base camp budget trek cost start from US$ 445
Local food always cheaper but there is really big difference in Khumbu trekking region. When we ask local hotel owner why Nepali Dal bhat cost is so expensive then they said that FIT eat more we are unable to feed them in cheap cost. We are not maintaining this story here for fun. It is the reality, when you visit Everest base camp trek route you can check the menu. Dal Bhat is the most expensive food above Namche bazzar in between all menu items.
It is not a good idea to hiking in high altitude without eating enough food. Your body needs more energy while you are hiking in high land. We request you money is not important then your health. If you are seeking cheap and best budget Everest base camp trek experience then hire at least a guide, eat enough foods like Breakfast lunch and dinner and enjoy your time in the Himalayas.
Self guided Everest base camp trek in Nepal
There is another factor to make the Everest base camp trip cheap is that when you are planning to undertake trek. If you are hiking to Everest before and after peak season diffidently you will get the cheap and best EBC trek packages. In between these times you will get the similar experience like peak season in your budget.
You can hire the trekking gears instead of buying to make Everest base camp trek cheap. Beside that it is highly advisable to choose a local trekking agency to book EBC trek rather than going for the international ones. International agencies also run the tours with the cooperation of local agents then why you pay more.
Consult with local trekking company Nepal to make Everest base camp trek on backpacker daily budget. We are local company for trekking in Nepal Himalayas specialization in Khumbu region write us to get the quote according to your budget.