Cost of snacks & food on Everest base camp trek daily consume
Here we are going to make you clear about available food on Everest base camp trek, its quality and require budget each per day to buy food snacks. While you are preparing for Mount Everest base camp trek Nepal you must keep in mind that hygienic food is a very important factor in this route. Food plays the major role to make your success to achieve to goal to reach Kala Patthar and base camp of highest peak.
You can get quality food on Everest base camp trek in given routes
Everest base camp trek, 9 days, 10 days, 12 days, 14 days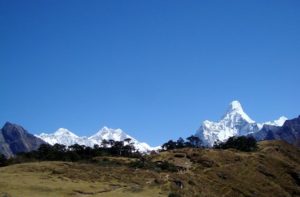 Mount Everest view trek, 5 days, 7 days
Gokyo lakes trek
Everest Cho la pass trek
Everest base camp trek via Jiri
Luxury Everest base camp trek
Everest three pass trek
Ama Dablam base camp trek
Phaplu to Everest base camp trek
Gokyo to Renjo la pass trek
Everything that you found in teahouses and shops on Everest region that carried by Donkey, yak or porters. Compare to other destination cost of food and snacks on Everest base camp trek route is not very expensive. But be careful with Lukla lodges they charge really expensive cost for room, food and snacks compared to other places in route.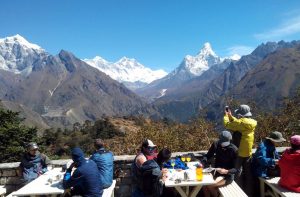 Most of the trekkers organize farewell party with guide and porters in Lukla at the same time local tea houses take an advantage on it (compare menu then decide). It is best to organize farewell party a day before either at Namche bazaar or Phakding village.
Beside that trekkers have to be careful with cheap package provider also. They cannot provide you best accommodation & quality foods with cheap package. It makes your trip uncomfortable and really very bad experience. Average budget for food on Everest base camp trek is US$ 27 to 35 per day. Mainly the cost of snacks & food for daily consume depends on food items that you select from menu.
Forget about backpackers' advice on blog they write unique post to make money by blogging. If you follow their advice you cannot get better experience, there are many terrible stories of backpackers in Everest trekking region missing to death. Hire a local guide through company to get not only competitive price but also safe, successful journey. Guide suggest you delicious and best foods that help you to acclimatize with the difficult days schedule.
Drinks served in the Everest base camp trek
It is a well known fact among trekkers that consuming caffeine and alcohol while trekking can be hazardous for health condition. We advise all to drink mainly hot water, caffeine free tea, lemon ginger honey and drink verities of soups to keep your body hydrate.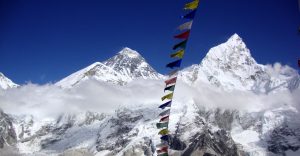 Food on Everest base camp trek Nepal
Meat and meat related food items are not recommended during the Everest base camp trek. Light breakfast including boiled or fried eggs with toasts, chapatti or Tibetan bread is fine & fresh. You will get freshly cooked verity of western food items on menu and can order on choice.
Dal bhat is highly recommended for upper part of the trek. Advisable snacks on Everest base camp trek are Chocolate bar, Pudding, crackers, Pringles, Pakora, Pancakes, Pizza, apple pie, Instant soup, French fries, Spring roll etc. Do not forget to take a test of Sherpa stew at once, it taste varies depending on the tea houses.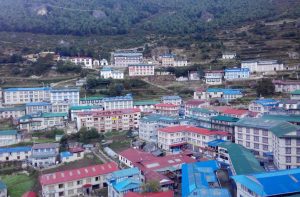 No doubt you will get quality food during the trek if you can select right lodge/hotel/ teahouses. If you traveling with guide and porters no worry they served to you is freshly cooked food always and select the right place to stay on journey also.
We think given important tip for novice trekkers about the cost of snacks on Everest base camp trek daily consume helpful to take pleasure during hiking in Nepal. Trekking lodge food during an Everest base camp trek are hygienic consume without hesitation. We will help you to organize Everest base camp trek for you to gain better experience write us.