Distance from Everest base camp to summit & EBC to summit time
Here I am going to make clear for all interested "how long does it take from Everest base camp to reach summit" from the two popular base camps on opposite sides of Mount Everest. Climbing distance from south Everest base camp to summit is 20 kilometers or 12.5 miles Nepal side.
How many days does it take to summit Everest from base camp?
Total duration about 55 to 60 days to complete the Everest expedition. Know more about Everest expedition cost from south east ridge.
The distance from North Everest base camp to summit is 36.5 kilometers or 22 miles Tibet side. Apart from the two main routes mentioned above, Everest could be climbed from other routes as well. Main base camp of Everest summit situated at 5335 m and high camps are located at height of 6,100 m, 6,500 m, 7,400 m and 8,000 m and of course the summit, at 8848 m / 29,029 ft.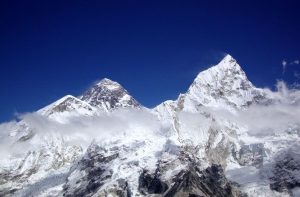 What is the distance from Everest base camp to summit time?
Total expedition duration is 7 to 9 weeks, first week spent to reach the base camp. Another 3 to 4 weeks spent to going up and down or camp to camp for preparation and to establish camps including food, fuel and oxygen. It takes 4 to 6 hours to reach the summit of Mount Everest from camp 4.
Average time frame after arrival to base camp to reach the Everest south summit is 40 to 45 days. This figure make you clear why does it take so long to climb Mount Everest.
How long from Everest base camp to summit distance, elevation, takes time with map and information for mountaineers. Everest trekking packages for those who cannot reach to summit time only explore EBC Nepal.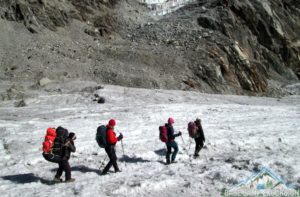 Everest base camp trek, 9 days, 10 days, 12 days, 14 days
Mount Everest view trek, 5 days, 7 days
Gokyo lakes trek
Everest Cho la pass trek
Everest base camp trek via Jiri
Luxury Everest base camp trek
Everest three pass trek
Ama Dablam base camp trek
Phaplu to Everest base camp trek
Gokyo to Renjo la pass trek
How hard is it to climb Mount Everest in the Himalayas?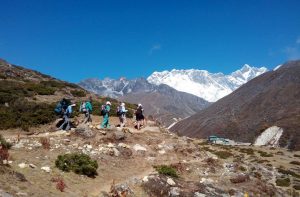 Climbing high mountain is always extremely tough task there are many people have died trying to climb Mount Everest each year. Everest base camp trek Nepal side is the most popular trip in Khumbu & Gokyo area for all levels of travelers.
Can a novice climb Mount Everest
It is impossible to climb Mount Everest with no experience, at least climbers' must know how to climb ice and rock and uses of summit equipment's and gears.
Mainly the Mount Everest base camp to summit times depends on your stamina and weather condition. It requires 1 day to several weeks. Each guided climbing requires eight to fifteen climbers with an equal number of support staff. I think you are clear about total distance, If you interested to climb the highest peak Mount Everest, we organize guided climbing trip according to your desire write us.