Dzongla to Gokyo via Cho la pass – EBC to Gokyo trek
Dzongla to Gokyo via cho la distance is 12.5km kilometers enjoy EBC to Gokyo Lakes walk. Dzongla to Gokyo trek route can be considered as one of the best adventurous journey to enjoy the thrill of walking adventure over 5000 meters Himalayan pass. The pass is not much difficult but it contains the glacier passing which is difficult. Trail to cross the Cho la pass and passing the glacier then walk deep down to hit the land which is full of loose rocks.
The way is a bit tough from Cho la pass to Taknak. It is easy to travel from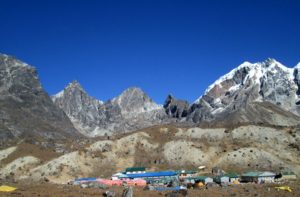 Dzongla to Cho la pass but for overnight stay you need to reach either Thagnak or Gokyo and that route is tough.
Next day morning you can start the hike towards the Gokyo ri to observe the beautiful valley, mountains, glacier and the fascinating beauty of the Himalayas, Nepal. The entire Dzongla to Gokyo via Cho la pass takes 17 to 20 days covering including return to Kathmandu.
Dzongla to Gokyo via Thagnak through Cho La pass is most difficult part of Gokyo valley and Everest base camp trek via Cho la pass lets go to fill the adventure.
Everest base camp trek, 9 days, 10 days, 12 days, 14 days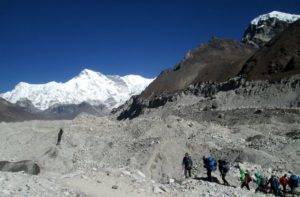 Mount Everest view trek, 5 days, 7 days
Gokyo lakes trek
Everest Cho la pass trek
Everest base camp trek via Jiri
Luxury Everest base camp trek
Everest three pass trek
Ama Dablam base camp trek
Phaplu to Everest base camp trek
Gokyo to Renjo la pass trek
Excellent views of the valley, glacier and mountains around you make Dzongla to Gokyo lakes via Thagnak or Dragnag interesting trip. Trekkers pass throw the rocky wall along the Cho La Glacier. On the top of Chola pass they can see a small glacial pond and magical Mountain view surrounding. Stand for a while in the highest point on the pass 5420m.
Descending to Thagnak or Dragnag from the top of Chola pass quite difficult; follow the footsteps and instruction of our professional guide to make EBC to Gokyo trek easy. Dzongla is the popular place and thus you can enjoy the dinner as well as easily spend the night over there. Trekking in Mount Everest is a long way. The next step from Dzongla is to trek and move towards the Cho la pass and Gokyo valley.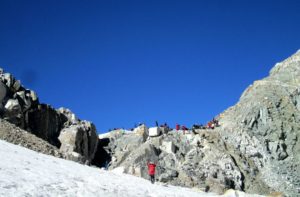 Dzongla to Gokyo lakes trek takes 7 to 8 hours to complete via Cho la pass, Thagnak or Dragnag and Ngozumpa glacier. After 3 hrs downhill walking from Chola pass you reach the Thagnak or Dragnag village for lunch break. In front of your walking trip you have to cross another gigantic Ngozumpa Glacier to reach the Gokyo.
The trail is in a different place every season, as the ice shifts and melts, and although we had stone cairns to follow, Guide happy to show you the right path. Travelers take rest to explore sacred lakes, Gokyo valley and Gokyo ri the best view point then continue trek back via Renjo la pass or regular Gokyo Lakes trek route.
Mount Everest is a well known place which is popular amongst people. The path guides you to the Gokyo valley where the views are really beautiful. Dzongla to Gokyo lakes trek via Chola pass is a part of Everest base camp trek EBC to Gokyo, Everest three pass trek. If you interested to discover Dzongla to Gokyo via Cho la after Everest base camp write us; we are happy to organize as per your desire.