Backpackers guide Nepal for Everest base camp trek self guided
Are you thinking to go for Everest base camp trek on your own? Wait! You should know this information in advance for preparation & you have to be fit enough for long walks about 5 to 6 hrs a day. Government of Nepal published the notice that it is not allowed to go mountain area of the Himalayas without guide. Still many trekkers visit Mount Everest region independently on their own risk. Some trekkers missing on the way to Everest base camp trek each year.
Natural wonders that you encounter during Everest base camp self guided journey makes you happy in Sagarmatha national park. Group join Everest trek is suitable for individual budget travelers to travel on backpacker's budget. With an organized group trek you always have a scheduled plan.
Undoubtedly, it is always more fun to have such an occurrence with Sherpa people. In addition, you actually do not have to be worried about arrangements of flight, accommodation, food & safety. This is much safer than any plan of Everest base camp trek alone.
Private trip are suitable for family and friends to experience a lifetime journey. It is hassle free trip trekkers get professional guide, experience support staff to care each and every step. Full board package covers almost everything needed during trek including Kathmandu to Lukla round trip flight.
Most popular Everest trekking region packages are listed here for reference.
Everest base camp trek on your own
Everest base camp trek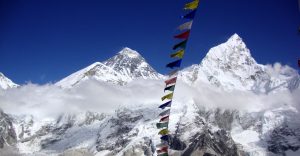 Mount Everest view trek
Gokyo lakes trek
Everest Cho la pass trek
Everest base camp trek via Jiri
Luxury Everest base camp trek
Everest three pass trek
Ama Dablam base camp trek
Phaplu to Everest base camp trek
Gokyo to Renjo la pass trek
Above mentioned both of options are much safer and recommended in comparison to self guided EBC trek. It has few advantages (you can save little) but many disadvantages. You may lose track of trail, cannot get support in bad weather conditions and Lack of proper guidance on ways of dealing with altitude or related issues may lead to an unfortunate accident. Self guided trip can cause a permanent physical disability or even your life.
Decide yourself, it is highly suggested for first-timers or people who are not professional trekkers never go for trek to Everest base camp alone. If you are searching even cheaper options you can hire a local guide or porter only. Email the region specialized local company to organize safest Everest base camp trek according to your needs based on your budget.
Few budget travelers think that we selling the fear to get business but in fact realities are different in high mountain area. Everest base camp self guided is a lot more than thrill and excitement. However, every option has its pros and cons, make a decision by keeping your life in the center. Good luck!