42 km/26 miles Everest marathon the highest marathon in the world
Tenzing Hillary Everest Marathon start from the base camp of Mount Everest 5364 meters / 17598 feet above sea level. It is highest marathon in the world & completely run over rough mountain trails. The distance of full marathon course is 42 kilometers / 26 miles. Beside that there are two more categories 60 km extreme ultra and 21 km half marathon also organize in Khumbu on 29th of May on "international Mount Everest day".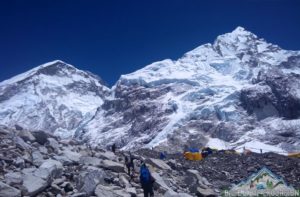 The race is only for one day, 21 km half Everest marathon start from Dingboche & end at Namche. Extremely adventurous 60 km ultra marathon start from Everest base camp pass all the way through Dingboche, Phortse, Mongla and end at Namche bazaar.
Everest Marathon is an epic adventure & nothing to compare with it in the planet. The race begin at EBC & ends at Namche Bazaar which is at 3446 m elevation. There is no other marathon which is run at such an elevation and that is what makes this so special and difficult.
The runners for the Marathon should be experienced in the cross country race, mountain running or other endurance events. A normal road marathon runner will not be able to complete the race. Though the route is mostly downhill, there are two steep uphill sections.
Interested runners can apply online to participate on this events in Nepal. Usually runners join this program for a 22 to 23 days. This duration covers preparation, acclimatization and hiking to Everest base camp (race start point) enjoying the beauty of the Himalayas. The Mt Everest Marathon is the most adventurous marathon in the world, if you interested to participate on this lifetime events email us to get the program detail.