Family Everest base camp trek with kids or seniors with age limit
Travel to Everest base camp with kids and seniors is, in terms of unusual holiday destinations, one family holiday with a difference. But the adventure and fun will always be remembered. Family Everest base cam trek will surely be a memorable journey just doesn't let illness spoil it.
You must follow all the precaution measures to keep your family safe and healthy. Family Everest base camp trek with kids and seniors design to show the world highest peak Mount Everest as well as naturally Nepal one of the most beautiful places in the world.
Your desires to stand at the Everest base camp 5364 m and Kalapatthar 5555 m with family members together then we make your dream true. Our guide helps you to capture this moment on camera for memories. Walking trail surrounded by the high mountains like Everest, Lhotse, Nuptse, Pumori, Thamserku, Kangdeka, Tawache and Ama Dablam the landscape an outstanding.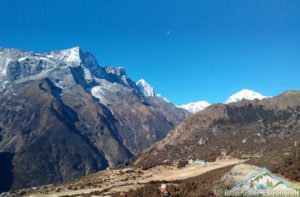 It can be tiring as trekking is not an easy job but you have to cheer them up and tell them more about the place, it brings energy and excitement. Awe-inspiring natural scenery makes you spellbound then senior and kids forget all stress while trekking to Everest base camp with family.
Our professional guide tells you amazing stories, and brief about upcoming trip and places. Visiting and shopping at local market place at Namche bazaar with family is also exciting. And finally, the view of Everest will be mesmerizing and memorable for whole family as you get to experience something out of a picture and that too with family.
Can you do the trek to Everest base camp from Nepal with kids?
Off course, we advice all tourists trek to Everest base camp with kids above 9 years and seniors below 70 years with good fitness level. Make sure that your travel itinerary allows you proper time to acclimatize. Small kids can not enjoy the hiking and natural view; it is not good to trek in high altitude with small kids below 9 years.
What are the types of family friendly accommodation in Nepal near Everest base camp for kids?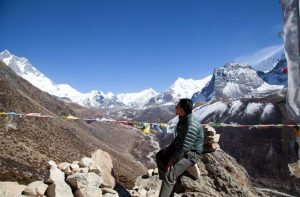 Mainly 2 types of accommodations at Everest base camp trail luxury lodges or normal tea houses. Luxury lodges provide comfortable service and general tea houses are extremely basic both are good to stay during the trek.
If you are planning to trek to EBC with kids it takes minimum 12 to 13 days to make round trip. 8 days to reach EBC and 4 days to come back Lukla. It is enough time to hike high sleep low with proper acclimatization to explore high altitude.
But it is not recommended to hike Kalapatthar with kids below 10 leave them at Gorakshep with porters. Guide takes care of your needs and preferences in a realistic way to make you family adventure holidays in the Himalayas memorable.
Tea house along the trekking route are basic hotel provide basic lodging and foods facility. In each room they provide you bed with foam mattress, bed cover, pillow and warm blanket. You can use your own sleeping bag too. Some teahouses have attached bathroom facility also available below Namche bazaar. When you cross Namche bazaar you have to use common bathroom it is quite complicated for family trip with teens and seniors.
List of Mount Everest tours packages to do Everest base camp trek for family with seniors and kids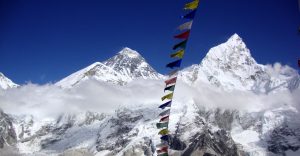 Everest base camp trek, 9 days, 10 days, 12 days, 14 days
Mount Everest view trek, 5 days, 7 days
Gokyo lakes trek
Everest Cho la pass trek
Everest base camp trek via Jiri
Luxury Everest base camp trek
Everest three pass trek
Ama Dablam base camp trek
Phaplu to Everest base camp trek
Gokyo to Renjo la pass trek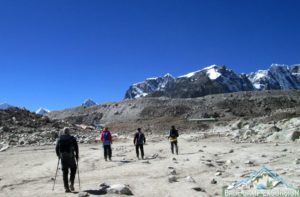 Safety measures while Family Everest base camp trek with kids
When you travel to a higher altitude with family even when you have kids and seniors with you, then you need to look out for various things. Immunity system of kids and seniors are not much strong. So, before planning a trip, join yoga classes for which keep everyone's body fit and there will be less issue regarding to breathing.
Family Everest base camp trek with kids is not easy as they are often addicted to junk food which is seriously not good for health. Avoid feeding them with unhealthy snacks while traveling. Always feed them foods which are hygienic and healthy. Always carry first aid box with all medicine that can be required.
Medicines of fever, diarrhea, cough and cold, choked or running nose, pain, vomiting, loose motion etc. Senior members of the family should also carry their medicines with them. Drink more water than usual to keep your body hydrate.
Hygienic surrounding on Everest base camp trek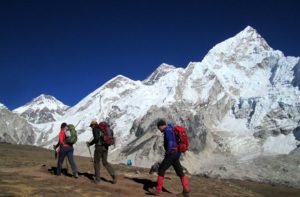 You are traveling to base camp so you must maintain hygiene to make it one of the best trips. Make sure that every member is using hand sanitizer before eating, after using toilet, sneezing or coughing or after touching any dirt.
Kids often don't care about hygiene and its importance so it's your responsibility to look after them. You must use sunscreen lotion which has 25 or more PF. You should also chop off your nails and tell everyone to do so for maintaining hygiene.
Everest base camp trek with seniors elderly and teenage kids is not easy but surely a fun trip. It is our great pleasure to welcome you in Nepal to discover Everest base camp trek in Himalayas. Write us to get the quote about family Everest base camp trek with kids and seniors as per your travel schedule.