Fantastic outdoor activities in Everest base camp trek with group
Top exciting outdoor activities to do on Everest base camp trek with group are listed below that provide unique experience in the Himalayas. Walk through rough terrains, stunning landscapes, glaciers, breathtaking scenic beauty towards the base camp of the highest peak of the world. Everest base camp trek with the group is unimaginably exciting and cherishing.
There are many exhilarating outdoor activities in Everest base camp trek. If you want to experience a little more than other trekkers and wish to be an inspiration for many others, then try the top-most following activities in Everest base camp trek with group in Nepal.
List of outdoor activities in Everest base camp trek with group
#Trekking & hiking in Nepal
Trekking and hiking to reach the base camp of Mount Everest and Kalapatthar is the popular outdoor activities to do on Everest base camp trek. One can gaze the natural beauty while walking around the heights for leisure and pay a visit to Sagarmatha national park.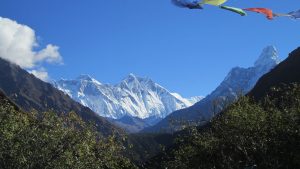 High Mountain, spectacular scenery, verity of flora and fauna make trekking tours to Mt Everest area make an unique event. Remember us to organize Guided Mount Everest trek and hiking in Khumbu region Nepal to discover south base camp of Mount Everest & more.
#Peak climbing and expedition in Nepal
Brave climbers from around the word come to scale "Mount Everest" the highest peak of the world in Sagarmatha trekking area. Beside that there are many popular climbing peaks like Island peak, Lobuche peak, Mera peak and others for experience and beginners.
Nepal is a famous destination for peak climbing and mountaineering summit in the world. Most Popular Climbing Peaks in Nepal including Mount Everest situated in this trekking area of Nepal.
#Everest Marathon in Khumbu
Everest Marathon famed as a world's highest marathon. This event organizes on May 29th every year to celebrate the historical ascent of Mt Everest by Tenzing Norgay and Edmund Hillary on 29th May 1953. If you interested to join Everest Marathon, email us we will follow you with all detail and process to participate in this occasion.
#Photography in Nepal
Everest region has some great places to take amazing pictures of Nature and cultural wonders of local. In this way it is popular place for photography tours in Nepal. Movie and documentary makers also explore this area to take an advantage of the Himalayan wonders and natural diversity.
#Rock climbing in Nepal
There are many rock climbing spots in Everest trekking route bus not very popular for rock climbing like trekking in Himalayas. International standard rock climbing spot near Phortse village is quite popular. Few international outdoor schools and organization provides rock climbing training in this place.
#Mountain flight in Nepal
Mount Everest Mountain flights take you very close to the Mount Everest. Trekkers can observe mountain scenery from the window of aircraft & window seat guaranteed for each passenger. You can go to cockpit to see & take a picture of Mountain range of Himalayas.
Mount Everest experience mountain flights for 1 hrs departure every day from Tribhuwan international airport "TIA" Kathmandu at morning time from 6:30 to 9:30. One can go to see Everest by plane about 9 months a year except monsoon season (June, July and August). 
#Sightseeing tours by helicopter in Nepal
Helicopter sightseeing to Mount Everest base camp start either from Kathmandu, Lukla or Namche bazaar according to the traveler's requirements. Everest base camp trek with helicopter return trip also available with us.
Helicopter takes you to base camp of highest peak and land for a while to take pictures. It is possible to do this from the September to May. Winter months are highly recommended to go for helicopter sightseeing to Everest.
#Manirimdu Festival celebration
Manirimdu is the main festival of Sherpa people of Khumbu region of Nepal. It celebrated at Tengboche monastery on the way to Everest base camp Nepal. If you interested to celebrate Sherpa festival influences by Tibetan culture closely then you can visit Everest during Manirimdu festival time.
#Monastery visit to pray with monk for good luck
There are many monasteries on the route of Everest base camp trek like Chaurikharka, Phakding, Namche, Khumjung, Tengboche, Pangboche etc. Most of the trekkers visit Tengboche monastery only. If you interested to pray with lama for good luck in each monastery then it is also possible. Write us to get the tailored schedule covering all activities, pray and mediation at Gumba with monk.
#Everest sky diving (occasional on demand)
Everest area famed as a Highest Skydiving spots in the world. It is an elite adventure at the top of the world organizes occasionally on demand. Write us to get the availability of Everest skydive price and space with quote.
The world famous Mount Everest trekking gives you an unparallel experience, glory which stays for a lifetime. It is a world known fact that Mount Everest tour is an expensive one and drains out a decent amount from your reserves.
One should experience fantastic outdoor activities in Everest base camp trek with group once in a lifetime. You will not regret the pool of memories and sense of accomplishment that will lift you up in the times of low all through the life. It Wishes you a great adventure trek!