Gorakshep village with Lobuche to Gorak shep distance, weather & elevation
Gorakshep village is the last village close to Everest base camp Nepal. The distance you will travel from Lobuche to Gorak shep is 4.7 kilometers. The walk is strenuous because of the thin air in high altitude. There are lodges when you reach Gorakshep village and those are quite busy. The water can freeze anytime at this altitude. Naturally the nights will make you feel like frozen sometimes. The internet service at Gorakshep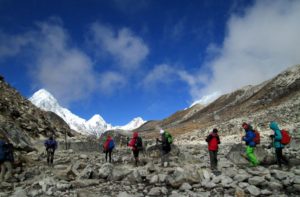 can be a bit satisfactory but expensive.
It would be better if you cut you're off from the social world and enjoy the serenity of Mount Everest, Khumbu region Nepal. You will walk along the Khumbu Glacier, the highest glacier in the world. Spending the most valued time at Mount Everest base camp, trek back to Gorak shep village.
Lobuche to Gorak shep trek distance is about 3 to 4 hours. The elevation of Gorakshep village is 5140 meters / 16863 feet above sea level. You will pass through many resting points till your journey to Lobuche, but after that the only stop between you and the Everest base camp is Gorakshep.
If your body is not acclimatize properly then You could feel shortness of breath, dizziness or even awful headaches, but once you are at Gorakshep, the beauty of the scene makes you forget everything else. We request you to walk slowly with rest at Namche bazaar and Dingboche and trek with experience Sherpa guide. You could feel the lack of sleep, little bit uncomfortable at gorakshep, Kalapatthar and Everest base camp. This is common to most of the trekkers because of the altitude.
Lobuche to Gorak shep is final day to reach Everest base camp Nepal during the trip to Everest. Trek start for Lobuche to Gorakshep check inn at lodge then continue to EBC. It is possible to do Lobuche to Everest base camp without stopping also.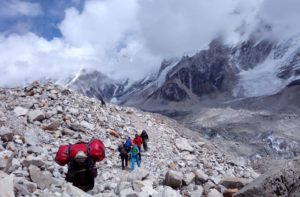 Everest base camp trek, 9 days, 10 days, 12 days, 14 days
Mount Everest view trek, 5 days, 7 days
Gokyo lakes trek
Everest Cho la pass trek
Everest base camp trek via Jiri
Luxury Everest base camp trek
Everest three pass trek
Ama Dablam base camp trek
Phaplu to Everest base camp trek
Gokyo to Renjo la pass trek
Lobuche to Gorak shep trek walking trail is irregular, wider at some place and narrow during most part of the trek. This point leads to you the Everest base camp after which you can trek to the highest mountain peak, the Mount Everest.
You have to start from Lobuche early with the first sun rays. If you delay there are maximum chances of getting stuck by the ever changing weather, cannot see the beautiful views from Everest base camp.
At the same day you will reach the desire destination the Mount Everest base camp 5360m. Another morning you will reach the Kala patthar. It is another achievement where you stand at 5550 meters above sea level. It becomes the highest point for all general trekkers in their life time.
We are local Nepal travel guide based in Kathmandu and Everest trekking region specialist. If you interested to explore Himalayan glacier, Everest base camp fell free to write us. Enjoy being natural from Lobuche to Gorak shep village, We will be pleasured to assist you on the matter.