Grading Everest base camp trek difficulty level
Let's check the grading how difficult is the Everest base camp trek before go and make sure that you do it or not by your own. The grading Everest base camp trek difficulty levels according to the terrain, walking time, altitude, remoteness, fitness and the condition of hiking trail.
There are mainly four different factors to be considered while determining the grading Everest base camp trek. They are walking time, altitude, landscape and distance. In general most of the guidebook speaks about the schedule from Lukla to Everest base camp 5,360 meters as a "moderate grade" trek.
Trek grade and fitness
There are four different types trekking packages in Everest trekking region. These are easy trek, moderate trek, difficult trek and strenuous treks. Easy and moderate grade treks are suitable for everyone. Difficult and strenuous trekking requires previous hiking experience, technical knowledge and physical health.
How difficult is the Everest base camp trek in Nepal, select Mount Everest trips according to your fitness level and duration of holidays.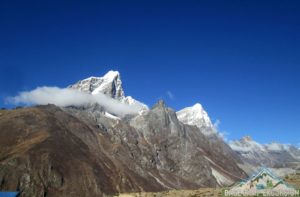 Everest base camp trek, 9 days, 10 days, 12 days, 14 days
Mount Everest view trek, 5 days, 7 days
Gokyo lakes trek
Everest Cho la pass trek
Everest base camp trek via Jiri
Luxury Everest base camp trek
Everest three pass trek
Ama Dablam base camp trek
Phaplu to Everest base camp trek
Gokyo to Renjo la pass trek
Time takes for Everest base camp trek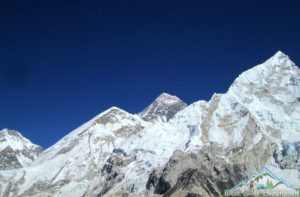 It takes 12 to 21 days to complete Everest base camp trek; it depends on from where you start the trek either from Lukla, Jiri, Phaplu or Salleri. Choose suitable grade trek according to your fitness, visit in best time of year to complete an Everest base camp trek in Nepal. If you prefer easy trek you have to walk 4 to 6 hours a day on easy trail.
If travelers choose moderate trek you have to walk for 6 to 7 hours each day over steep hilly terrain on usually rough trails. On difficult grade trek route trekkers have to walk for 6 to7 hours each day over vertical hilly terrain on typically rough trails with daily ascends of around 400 to 600m. Previous high altitude experience and good physical requires to make successful strenuous trek. Daily walking duration is 6 to 8 hours in high altitude with tough daily ascend and descend of around 500 to 1000m.
Isolation of Everest base camp trek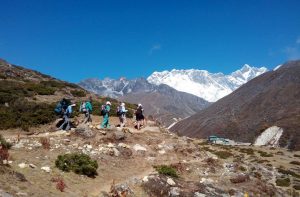 Mount Everest situated in Mahalangur Himalayan range in the border of Nepal and Tibet (China). It is one of the remote area of Nepal decorated with nature beauty. Remoteness cannot stop any adventure lover to explore Everest region to see the highest peak of the planet.Closest airport to go to Everest base camp is Lukla.
Nearest motor able road is in Salleri and Jiri which would take three to six days of walk, down from Lukla. Electricity, phone coverage and internet access are available in most of the villages along the trail. In case of emergency helicopter rescue service also available in this region travel with travel insurance policy.
Elevation of Everest base camp trek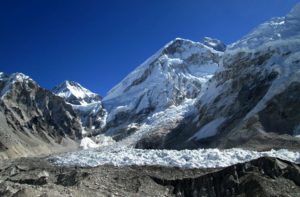 Highest elevation where all travelers reach during Everest trek is Everest base camp 5360 meters and kalapathar 5555 meters above sea level. From Lukla to Everest base camp trek, the problem for trail has not been in years.
There has been lately known for the problem in elevation, as grading Everest base camp trek difficulty level dramatically increased in second day as you get in Namche bazaar, the very next day from Kathmandu.
Elevation at Namche is 3,440 m from bottom ground level. High altitude sickness could be major things to deal with. To avoid altitude sickness, trek slowly. We suggest you to walk according to the instruction of guide. Trekking guides, porters and climbing Sherpa's are there every time to help you to make your trip safe and easy. You must know the statistics for the Everest base camp trek distance, length and elevation before heading.
Terrain on Everest base camp trek
Terrain is mix of flat, gradually ascents, steep ascend and descend. Due to the altitude variation trekkers' passes throw the different types of landscape on Everest base camp trek. nature of the terrain as well as the degree of mental and physical challenge needed to complete the trek.
Its amazing nature and Sherpa culture make your trip to Everest base camp memorable forever. Stunning landscape of Khumbu spellbound you in each step. Previous hiking experience, physical strength and optimistic thoughts are essential to make attractive journey to the foot of Mount Everest.
We are local trekking company Nepal organize Everest base camp trek from Lukla, Jiri and Salleri year round according to your suitability. If you interested to visit EBC check Everest trip grading then write us to get the private trip quote to discover highest peak of the world.