Guided solo trek to Everest base camp Nepal
Are you interested in trekking? But still searching friends for support to move on? Stop being dependent on others and start your journey today by yourself! Come let's show you how it's interesting for you to visit Nepal for solo trek to Everest base camp with guide. Nothing goes wrong if once you are aware of the tricks of visiting Nepal. The only thing is that you just need to keep calm and make yourself comfortable for the journey.
Now basically what's waiting out there for you in Nepal? Nepal is a place containing full of mountains and glaciers with the extra beauty of nature. Nature has many such beauties for you to see. Thus Nepal has been one such place for you. So now let's see how Everest base camp trekking can be done solo in Nepal!
Complete guide for self guided Everest base camp trek in Nepal & packages to EBC solo trek. check the link to hiring a guide for Everest base camp trek Nepal.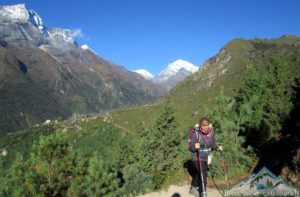 Everest base camp trek, 9 days, 10 days, 12 days, 14 days
Mount Everest view trek, 5 days, 7 days
Gokyo lakes trek
Everest Cho la pass trek
Everest base camp trek via Jiri
Luxury Everest base camp trek
Everest three pass trek
Ama Dablam base camp trek
Phaplu to Everest base camp trek
Gokyo to Renjo la pass trek
Brief description about Everest base camp trek without guide
If you are planning to visit Everest base camp trek alone; it's prior for you to understand where and at what locations are these places situated. When is the best time to go for guided Everest base camp trek solo, Mount Everest has two base camps; north base camp in China (Tibet) south base camp in Nepal. Trekkers reach till the lowest point base camps but climbers goes further to reach the top of summit.
Our expert design guided solo trekking to EBC provides safe journey. Meeting friendly locals and their innocent help and hospitality gives you life time experience. Before visiting guided solo trek to Everest base camp do carry your entrance permits, maps, trekking gears and carry sufficient cash to with you and hire a guide with local travel agents Nepal.
Is Nepal safe for women travelers?
Probably this has been a common question especially when a woman starts a solo trek. But certainly, you need not have to worry as it's quite safe for the women's to visit Solo trek to Everest base camp alone. They are suitably been guided by local guides who takes care of them with all sorts of facilities. Thus if you are planning to come then follow up and start your trekking today safely!
Non-guided solo trek to Everest base camp Nepal is not recommended. Many travelers missing in the Himalayas during trekking period, we don't want to see highlighted missing news about you with price for body founder, Think yourself.
Nepal is 99.9 percent safe to travelers. We are local adventure company Nepal, organize Everest base camp trek, Gokyo lakes trek, Everest view trek and many more in Everest trekking region. We have Luxury and budget, full board and partial service like guide, porter, permit, bed and breakfast opinions from Kathmandu to Everest base camp Nepal, Asia enjoy ebc trekking.