How far is it from Lukla to Everest base camp trek distance?
Are you willing to travel to Mount Everest base camp and feel the essence of actual trekking? If this is so, then it's going to be your best choice for attaining trekking. Come to the outstanding world of Mount Everest. The first question that arises is why to visit Everest for trekking?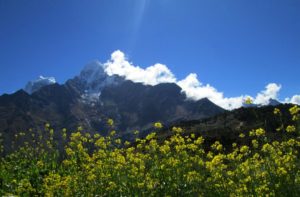 Everest has been one of the highest mountains in the entire world. Thus its location genuinely attracts visitors from all across for trekking. The distance of this peak is almost about 8848 meters from the sea level.
Mount Everest attracts both experienced and non-experienced mountaineers from all across the world. While climbing the probable thing to be noticed is the location of base camps. Quite a large group of camps exists in Everest. But the most renowned one is the Lukla to Everest base camp. Now the question arises where this camp located is and How far is it from Lukla to Everest base camp.
Distance, elevations & takes times from Lukla to Everest base camp trek Nepal packages helps to know how long does it take to trek to Everest base camp from Lukla in Sagarmatha national park?

Everest base camp trek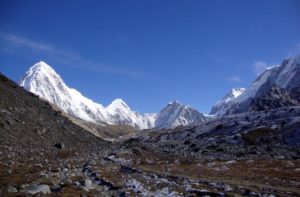 Mount Everest view trek
Gokyo lakes trek
Everest Cho la pass trek
Everest base camp trek via Jiri
Luxury Everest base camp trek
Everest three pass trek
Ama Dablam base camp trek
Phaplu to Everest base camp trek
Gokyo to Renjo la pass trek
How far from Lukla to Everest base camp trek route
Lukla to Everest base camp trek route distance 62 kilometers / 38.5 miles. Being stretched across the wide area Mount Everest two major base camps are probably located in the north towards Tibet and in the south towards Nepal. But the trekkers most prefer the Lukla to Everest base camp trek route. Now you might be thinking why is that so? The reason is quite simple:
Basically, the trekking across the south side has been mostly famous among the climbers. Thus every year a wide group of visitors is seen there.
South East Ridge is the easiest Everest climbing route among all Everest summit ridge
Kalapatthar is the best Everest view point also located in Nepal side of in the Himalayas
Thus the trekkers fly from Kathmandu to Lukla the gate way to EBC trail. There are other options also available to start trek from Jiri to EBC and Phaplu to EBC also.
While going through the Mount Everest regions usually this Lukla provides the mountaineers to fly easily at a height of 9383 feet high.
How far is it from Lukla to Everest base camp?
Basically located in the areas of mountainous region Lukla has earned greater importance for its easiest mode of climbing service. Thus the Lukla village to Everest base camp distance approximates to 62 Kilometers that consume almost 8 to 9 days by climbers to climb. Eventually, climbers have to start in a slow manner in order to provide them with relaxation time too.
How long does it take to reach the base camp?
It has been estimated that being so far may eventually allow climbers to fly to Lukla at 2860 m high. It takes almost 6 to 8 days for them to reach base camp. In order to avoid sickness and climate affect thus, the climbers take care of it. Thus it would have been clearly visible How far is base camp on Everest.
We update day to day walking distance in our luxury Everest base camp trek itinerary. Distance from Lukla to Namche bazaar updated in Everest panorama trek. See the map of route from lukla to Everest base camp. We are local agents to organize Everest base camp tours write us if you interested to discover Khumbu region Himalayas.