How fit do you need to be for Everest base camp hiking Nepal
Do you wish to go on an expedition to the Everest? Well, you might want to ask yourself one question before you decide to do so. How fit do you need to be for Everest base camp hiking Nepal? Well when you are getting trained for a base camp in Everest, the matter is no child's play!
No worry any one physically fit can go to Everest base camp easily with proper rest / acclimatization. Support of guide and porter are essentials throw reputed agency.
Complete guide for exercise & requires physical fitness level for Everest base camp trek from destination expert including suggested package list to discover highest peak of the world "Mount Everest".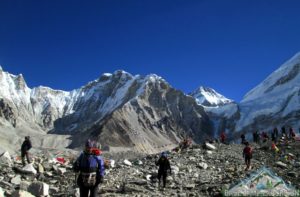 Everest base camp trek, 9 days, 10 days, 12 days, 14 days
Mount Everest view trek, 5 days, 7 days
Gokyo lakes trek
Everest Cho la pass trek
Everest base camp trek via Jiri
Luxury Everest base camp trek
Everest three pass trek
Ama Dablam base camp trek
Phaplu to Everest base camp trek
Gokyo to Renjo la pass trek
Fitness required for Everest base camp trek
Fitness training is an absolute must, In fact, the fitness training for Everest base camp trek requires a lot of perseverance as it will involve you to train in the form of strength, endurance in the form of cardiovascular as well as a great deal of hiking before you get absolutely ready to undergo the expedition. It is a 17,600 feet / 5,380 meters hike, and no exercise is adequate enough to train you for that.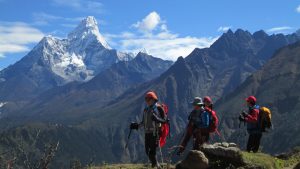 However, you can make the trek much easier and less stressful for you if you undergo the proper training preparation and hence reach a level of fitness which will give you the capability to be able to trek even while carrying a bag.
You don't have to a professional climber to make the expedition
You might wonder how to train for Everest base camp trek? Well, one thing you can be absolutely sure is that you will not be requiring any form of a technical experience in climbing if you wish to be successful in this expedition as there is nothing much technical about the trekking.
You also don't have to be experienced when it comes to high altitude. All you need is the focus, determination and the correct amount of hard work and you are all set to go. You also need to make yourself fit in terms of physicality so much so that you can easily endure a trekking trip that will involve around 4 to 5 days.
The various physical exercises required for the trek
The question is how to get fit for Everest base camp? Well, you will have to be a regular at the gym and properly maintain your fitness regime to strengthen your body thus preparing you for the trek. How to train for Everest base camp trek check some of these workouts include:
How to prepare for Everest base camp trek
Running every day about 30 minute to 1 hrs before going
Squats
Military and bench press
Pull-ups and push-ups
Incline press
Cardiovascular exercises such as strict working the treadmills
Also, you need to buy yourself proper trekking equipment. Now you are clear about How fit do you need to be for Everest base camp trek. Training program for Everest base camp and required fitness level for Everest base camp trek. We advise you to come to visit in best time of the year.
Arrange trip with local agency with experience guide and porter. Always follow the guide instruction when going uphill then no one can stop you to scale the Mount Everest base camp and Kalapatthar. Write us we are happy to provide you quality service in competitive price to make you happier. How fit do you need to be for Everest base camp