How many days required for Everest base camp trek monsoon months
Verify detailed on map of trek from Lukla to Everest base camp south Nepal to know how many days required for Everest base camp trek monsoon season. It is possible to go for Mt Everest base camp trek monsoon months. Nature lovers can discover bloom flowering plants of alpine area as well as the different types of moss & mushrooms alongside the trail. Monsoon Everest base camp trek suitable to make research about alpine vegetation because it growing and blooming in monsoon season.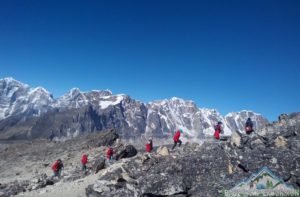 During the monsoon there are only few flights to Lukla from Kathmandu. in this way you trekkers have to plan Everest base camp trek monsoon with 4/5 extra days then travel schedule. for all Everest base camp trekkers.
It is very important prepare themselves for all possible situations. the trek can be difficult due to uncertain weather conditions, so training and preparation is necessary.
compared to the day time, the night time is very cold in almost entire Everest trekking region. it is very difficult to predict the weather condition. it is possible for the temperature to be 25 degree Celsius during the day time and it can go down to -15 degree Celsius during the night time.
Many people suggest avoiding Mount Everest base camp trek monsoon adventure because during the monsoons, lower elevation region below 3200 meters remains wet. High elevation remains dry but sometimes snow falls in the high elevation regions. however, some expert trekkers prefer to trek during the monsoons in Nepal.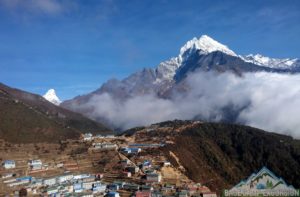 Beside Mount Everest base camp trek there are many other trail in rain shadow area of Nepal are doable to explore amazing destination.
During the Monsoons in Nepal, trekking is easier, views are superior in Manang, Upper Mustang, Dolpo regions of Nepal. Upper section of Annapurna circuit trek, Tilicho lake trek, Upper mustang trek, Nar Phu valley trek, Upper Dolpo trek, Lower Dolpo trek & Damodar kunda trek are great in rain shadow and remain dry during the monsoons season in Nepal. so rains do not affect those regions.
There are some difficulties as well as advantages of trekking in the Himalayas during the Monsoons. Trekking can be a memorable experience, even in the regions that receive rains because there are fewer crowds. So you can relish the best of nature alone, without any disturbance.
You will also get full attention of the staff at the lodges and tea-houses. It rainfalls in the lower lands but in the morning time, weather is clear in the upper lands. We organize Everest base camp trek year round including in rainy season.
If you interested for monsoon trek email us to get the trip quote and procedure to booking in advance with destination specialist. Mount Everest base camp trek post monsoon offers really nice greenery and mountain view.  Monsoon season temperature for Mount Everest base camp trek in Nepal.