How many tourists visit Mount Everest each year
According to the statistics of Sagarmatha national park office in Manjo, the number of visitors to Everest base camp trek and tours are about 35000 each year. Mount Everest is one of the most popular places for tourism all over the world. It is not difficult to understand why that is. After all, it is the tallest mountain in the world. Because of that, there have been a lot of changes over recent years in the field of tourism in places like Nepal and the surrounding areas of this mountain.
Let's check how much does it cost to go for Everest base camp trek
So, how many tourists visit Mount Everest each year? Here are some key Mount Everest tourism statistics, information, packages & importance of Nepal tourism industry. On the contest of Nepal tourism is the main lifeline of Nepalese economy.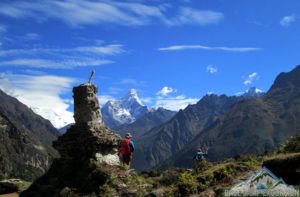 How many people climb Mount Everest each year?
Another curiosity for all is that, how many people attempt to climb Mt Everest annually Inflow of tourists in Everest region for Mount Everest expedition is about 700 to 1000. All people try to attempt Everest summit every year.
Most of them try to reach the top of Mt Everest on the month of May in spring season from the south east side of highest peak in the world. Only 350 to 500 people scale the Mount Everest and get success to stand the top of highest peak of the world.
Let's check how much does it cost to climb mount Everest?
Mt. Everest tourism activities prefer by the travelers is trekking to see the highest peak of the world. Get involve in Mount Everest tourism to make lifetime achievement. Mount Everest tourist attractions & packages to experience Everest region for tourism in Nepal.

Everest base camp trek
Mount Everest view trek
Gokyo lakes trek
Everest Cho la pass trek
Everest base camp trek via Jiri
Luxury Everest base camp trek
Phaplu to Everest base camp trek
Gokyo to Renjo la pass trek
How many tourists visit Mount Everest every year
On an average, the annual number of tourists who visit the Everest region each year is around 35000 in total. This is increasing each and every year and unsurprisingly so. Many people already claim this area to be overcrowded with tourists compared to other spots.
The Environment, Sherpa's and Mount Everest tourism Nepal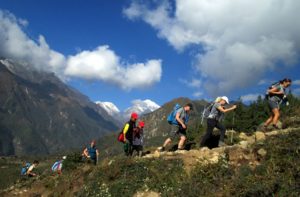 One of the key areas where the Mount Everest tourism impacts have befallen is the environment itself. Ever since the 1950's, there have been major changes in the economy of the place due to tourism (positive impacts of tourism on mount everest).
This has led to the prosperity of many a Sherpa since tourism allows them to have a job as a guide for the tourists.
13% of the total lands in Nepal have been given the status of being protected due to excessive amounts of tourists visiting each year.
The Sagarmatha National Park has been deemed to be affected directly by the pollution from tourism.
Since trees from forests are cut down to be used as timber for fire, a lot of deforestation has taken place in the area as well. Helping hands to Nepal work together to keep Everest base camp trek route clean & green together for next generation.
Waste Issues: Human waste left by climbers on Mount Everest is causing pollution
The Pollution control committee that has been set up in this area in 1993 has also tried to take on pollution as much as possible. Some of the problems that keep popping up on a regular basis include dead body management, wastes left by mountaineers, litter, etc. A number of solutions have also been come up with in order to deal with these problems. Some of them include:
Construction of Rubbish Pits
Distribution of Litter Bins
Employment of staff members for litter collection
Creating information centers
Creating porter shelters
Now you are clear about the mount everest tourism facts, impacts of Mount Everest tourism statistics, How many tourists visit Mount Everest each year and How to visit the highest Mountain in the World. We organize Everest base camp trek and other packages in Khumbu region in the Himalayas as per your desire write us.
Check how many tourists visit Mount Everest each year on photo